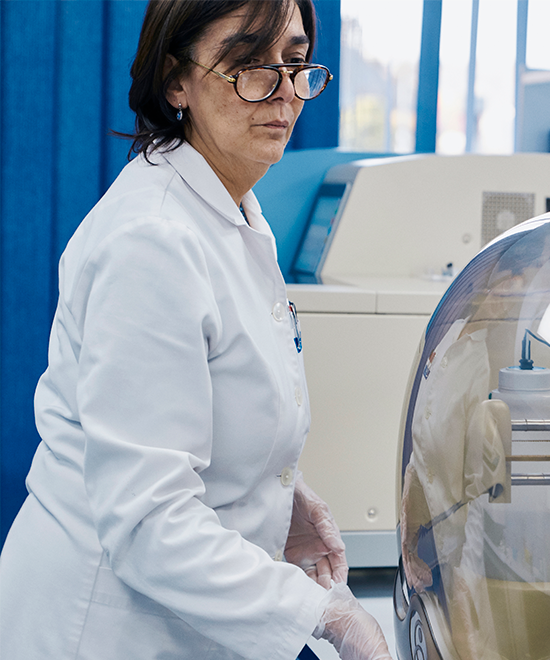 End-users need to be involved in all stages of digitization
Digital transformation only works if integrated to end-user and leadership capacity development
Over the last two years, City Cancer Challenge (C/Can) has been actively supporting a growing portfolio of digital solutions focused on helping the cities where it operates undergo a digital transformation that puts end-users front and centre and is designed to last. In short, as the previous article in this series noted, digitisation projects must respond to clear needs and provide sustainable added value; digital transformation must always be about local professionals strengthening their healthcare systems.
"Human resources for health (HRH) must be at the heart of digitisation projects, and need to be supported by clear processes, their capacity needs to be enhanced via training and they also benefit greatly from a strong supportive system to embrace change," says Mathieu Morand, C/Can's Senior Manager, Health Financing & Digital. "The key is finding ways to create a supportive culture for HRH to unlock the full power of technology".
Incorporating the end user in the planning and procurement process
One of the most common challenges captured by health professionals during the C/Can City Engagement Process is either a lack of training in the use of newly procured technology or not having been consulted about their needs beforehand. This unfortunate pattern is because technology procurement processes are typically highly centralised and end-users are rarely involved, as María Franco Esquival, C/Can's City Manager in Leon, explains:
"We recently completed the Situation Analysis of Leon in Mexico and one of the main concerns is the lack of involvement of clinicians and technicians in any procurement process for technology to be used in the public hospitals of the city."
There are many factors in play during the design process, and this is not an uncommon issue in high-income countries, but it can result in a severe waste of resources or, worse, misuse of technology. As LMICs embark on the process of digital transformation, they have a unique opportunity to create a consultative and participative procurement culture where end users express their needs, test solutions and ask for product developments to fit their workflows. For example, C/Can is now using co-creation sprints in order to bring together end users, solutions providers and international experts to give city stakeholders an opportunity to get assistance while identifying and documenting in-depth their requirements for digital solutions.
Dr Augustina Badu-Peprah, Head, Diagnostics Directorate at the Komfo Anokye Teaching Hospital in Kumasi, Ghana, has direct experience: "It's been an eye-opening opportunity for local end-users to exchange with solution providers. These types of dialogues are critical to ensuring that we all – private and public sector representatives – align on a forward-looking and sustainable cancer diagnostics plan for the city".
Planning for comprehensive capacity development
However, the core of transformative health system strengthening projects must always be capacity development. Only when there is an alignment from the get-go between capacity development delivery and the deployment of digital tools will sustainable improvement happen. Too often, core strengthening of the professional workforce is overlooked when digital solutions are simply seen as a solution to bridge gaps. If we look at the example of pathology, inconsistent quality is a major concern in LMICs that prevents fast and reliable diagnostics. Digital solutions, ranging from equipment and supply management in laboratory information management systems (LIMS) to more advanced digital pathology features, all hold the promise of helping address issues related to quality, but only if the technical staff has first been adequately trained and re-trained on what quality standards are, on best slide preparation practices and on quality monitoring. As Dr Beatriz Hornburg, C/Can's Project Director for Readiness, notes: "badly prepared slides can't be scanned and read remotely any better! Digital support tools start making a  difference only if technicians master the basics, like how to manage workflows of reagents supply. There are significant benefits to using the corresponding features of a LIMS developed for the local context."
Patient navigation is also one of those critical areas where only a comprehensive approach including protocol definition, capacity development of the entire clinical team and advanced digital features can help create an efficient program functioning at scale. In Porto Alegre, C/Can is working with its sustainability partner  Instituto de Governança e Controle do Câncer (IGCC) in supporting the design of a patient navigation system by a local healthcare provider. The exploration of digital support is only the final phase of the project, once the core capacity of the care team is strengthened. Before then, the local team is focused on enabling early referrals and counter referrals thanks to an intensive training program at primary care level.
"Adequate training of HRH on technology usage is the obvious piece of the capacity development puzzle for digital transformation. However, it is sometimes overlooked, assuming that all professionals involved in the project start at a similar level of digital literacy and habit to navigate tools in their daily workflows," says Dr Gabriela Alerico, the main project manager for the early diagnostics project in Porto Alegre. She adds that this is rarely the case, as digital deployments are often inconsistent and either focused on the lowest or the highest levels of care. Time and again, C/Can has observed a big gap in digital adoption for the widely ignored HRH categories like nurses or technicians, who sometimes need substantial support.
Ensuring  strong support for managing change 
A transformational intervention in cancer care only makes sense when it is sustainable. The use of digital tools represents both a challenge and an opportunity to the sustainability of change. Indeed, continuing to use digital tools is often challenging and requires continuous mobilisation of resources until the adoption is deep and seamless. On the other hand, digitisation enables us to track behaviours and identify bottlenecks for sustainable change. Thanks to process digitisation, we are able to monitor and compare how pathologists are reporting biopsy results to oncologists, and we are also able to measure the frequency and intensity of reagent shortage in laboratories. But there needs to be capacity on the ground to act on those data insights, and that requires strengthening leadership skills.
Capacity development needs to focus on leadership and decision-making skills at all levels of the healthcare system, so as to ensure that change management is perceived and adopted as a continuous evolutive process for healthcare strengthening, as Fred Kwame Awittor, C/Can's Digital Health Manager, concludes:
"This is probably the hardest challenge: ensuring that digital transformation acts as a profound enabler for healthcare system strengthening. Which is why  we are actively calling for partners to support our cities in setting up a comprehensive culture for technology-enabled change."
The final article in this series will look at the role policy must play in driving digital transformation.