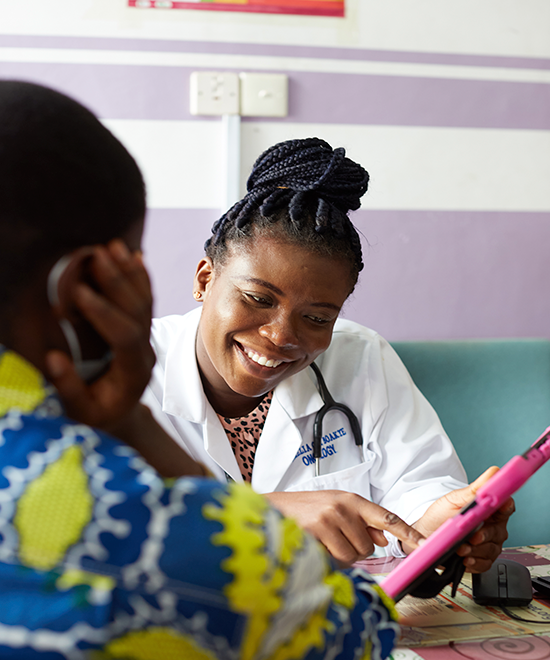 How digital strategies are transforming cancer care
Digital health has the potential to drastically change the rules of cancer care. All across the world, the rapid roll-out of technology across healthcare institutions is providing a unique opportunity to improve the quality and accessibility of cancer care. Low- and middle-income countries (LMICs) are no exception, which is why C/Can prioritises the integration of digital health solutions as part of its city engagement process.
Sharing our experiences: what we learn from local and international partners, and how we strive to develop a sound approach to supporting our cities with their digitization projects reflects the collaborative nature of C/Can. It's why the foundation regularly calls for help from experienced partners who have gone through similar challenges.
Digital health will be the focus of the fourth Inside Stories, the series that takes an in-depth, behind-the-scenes look at C/Can's strategies in its network of cities around the world to reduce the burden of cancer.
Story 1: Working hard on data digitization for cancer care
In oncology, arguably more than in any other area, data is the new gold. Patient data, institutional data costing data, among others, all have the power to transform the cancer care space, which is why digital health has such huge potential. Digital technology enables us to capture, connect, contextualize, process, and analyse data in ways which were not possible until recently.
As Gam Dias, Data Strategist at 3 Points Digital, explains: "For organisations on a mission, like C/Can, data is absolutely critical. The technology and the techniques to create collect, process, and analyse the data are continually advancing. We see data as one of the unique assets of C/Can that enables us to help deliver the mission in supporting C/Can cities and beyond."
However, a digital health intervention is only as good as the quality of the data and as impactful as the extent of its integration into the healthcare system. Which is why in this story, we'll explore how C/Can is addressing the data gaps for digital health interventions in cancer care, looking first at its internal City Engagement Process and then at projects that are laying the groundwork for sound and ambitious digital transformations.
Story 2: Creating a culture where people know how to get the most from technology 
Deploying technology in itself is not enough to generate impact. It's only when people start exploiting the potential of digital transformation for tangible operational or clinical use that technology catalyses positive change. Too often, poor consideration for the end user, starting from misunderstanding their needs, skipping their training, and not providing support leads to poor adoption, inappropriate usage and/or waste of resources. Putting nurses, clinicians, technologists, and patients at the centre of digital health is critical to making an effective impact in cancer care.
This story will break down the C/Can approach to integrating digital health within comprehensive transformation projects, putting capacity development at the heart of the change management process along with technology.
"C/Can's support in setting up a patient navigation programme in Rwanda focused on thorough training of all staff involved in using a digital platform that stores patients' data, from diagnosis through the different stages of treatment. This has allowed members of multi-disciplinary teams at participating hospitals to share technology to simplify communication and collaboration," explains Marc Hagenimana, Acting Director of the Cancer Diseases Unit at the Rwanda Biomedical Centre
Story 3: How policy can accelerate successful digital transformation
The most popular approach to digital transformation is to run pilot projects to learn, sometimes fail, and hopefully succeed, ultimately generating a series of key success indicators that can provide a pathway for a broader deployment. However, the transition to sustainability is anything but straightforward and requires close attention to avoid poor impact.
Which is why shaping policies is the last but not the least critical aspect to ensuring that proven and digitally supported transformation programmes become the norm. Policies can be shaped at all levels of the healthcare system and this episode of Inside Stories will share C/Can's early experiences in this area, working closely with external experts and partners.
"Together with our city stakeholders and partners, we are  leveraging and scaling learnings from C/Can's first cities to better understand and build enabling policy environments for digital transformation," notes Rebecca Morton Doherty, Head of Policy and Global Impact at City Cancer Challenge.
The first episode of our fourth Inside Story series, focused on digital health, will be available at the end of the month and will provide invaluable insights into C/Can's work on the ground and how it is formulating and implementing strategies to change the way cancer is treated. Stay tuned!