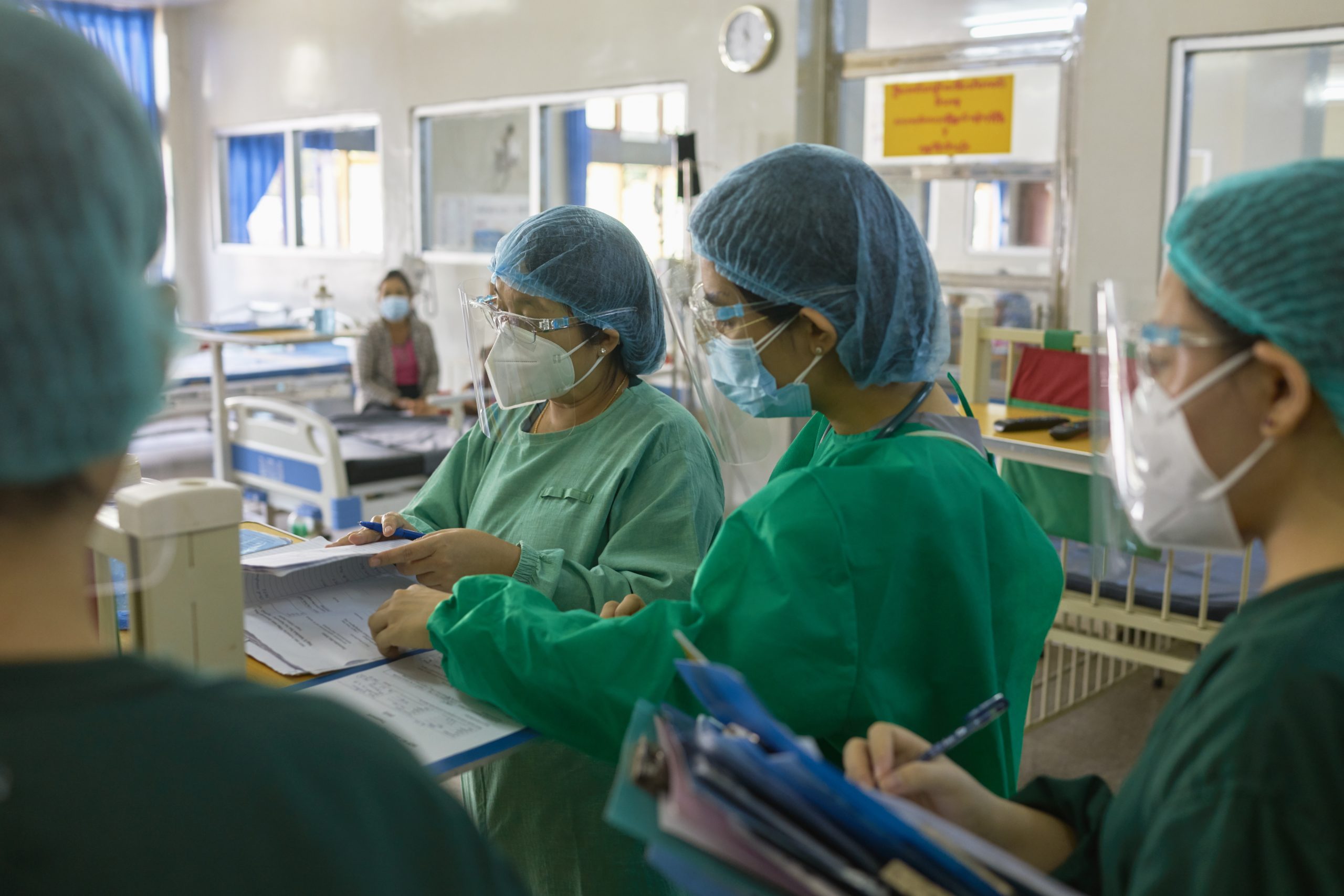 Driving data digitisation for cancer care
Data has the power to transform the cancer care space and enable better decision making at all levels: multidisciplinary care teams make more informed treatment decisions if the patient's history and their diagnostics journey is complete, coherent and accessible; similarly, public health authorities make optimal resource allocations and planning if they have a comprehensive and detailed picture of past and future cancer incidence, existing resources and outcomes; while diagnostics and treatment innovators can design effective and precise products when they have access to a high volume of patient data. In short, data creates a broad range of new opportunities and generates a high level of optimism in the community.
However, in low- and middle-income countries (LMICs), the availability of cancer data is extremely poor. Gaps in data capture are enormous, jeopardising the quality and relevance of most information. This is why the rapid digitisation of the healthcare system is a tremendous opportunity for LMICs to take control of their data and build a comprehensive infrastructure enabling all of the above use cases to flourish.
At C/Can, we have decided to support cities' transition towards the digital economy, focusing on helping them, piece by piece, to ensure the construction of sound cancer care digital infrastructure that is useful from the get-go, which puts end-users front and centre and is designed to last. In order to do that, we are supporting cities to work harder on their data.
Aggregating data to make better digitisation planning
Our first observation, made with various city stakeholders, is that few places have a clear vision of their digital health initiatives, even when they are ongoing or planned. More than in any other area of healthcare system strengthening, the fragmentation of digital health into different programs using a range of technology platforms which do not talk to each other is highly worrying. Most countries have now put in place a digital health strategy to drive infrastructure development systematically. Nevertheless, digital health strategies generally do not cover the needs of specific disease areas, while restrictions on funding availability still lead to the deployment of vertical silos. This is all the more relevant in the cancer care space, where there is little funding available for centrally-driven initiatives and generally no oncology-specific digitisation roadmaps.
Thanks to the support of our partner Astellas Pharma Inc., in the Peruvian city of Arequipa, C/Can is pioneering a new version of its needs assessment methodology and platform, with a strong focus on digital health data capture. On one side, qualitative data will be collected from multiple stakeholders to aggregate the current digitisation silos' information in a single platform. On the other side, specific needs for digitisation will be collected from the ground up, starting from the end users (clinicians, healthcare workers and patients). Moreover, a Digital City Coordinator has been nominated to be responsible for that data and to generate insights and ensure consistency and optimisation of the usage of digital platforms by the different working groups in charge of different care areas.
Working hard on the needs assessment data and current state of digitisation of cancer care will enable city stakeholders to collectively plan for optimised and strategic developments, so as to make sure that digitisation is responding to clear needs and will be a sustainable value addition process.
Deep diving into data interconnectivity along the patient journey
Over the last two years, City Cancer Challenge Foundation (C/Can) has been actively supporting a growing portfolio of cancer care digitisation initiatives in its network of cities. Most of those projects were designed by local institutions as pilots to prove a specific value-addition use case, such as easing patient referrals and navigation, optimizing laboratories' capacity or enabling remote multi-disciplinary team consultation. However, to sustain those digital health initiatives and smoothen workflows once they are proven as value-adding investments, they need to be embedded into broader systems. That's where the question of data interconnectivity and interoperability arises, and that's the biggest challenge city stakeholders have requested C/Can to support them with, as Sylvere Mugumya, Business Analyst, at the Rwanda's Ministry of Health, explained during the opening of the Roadmap to Digitisation of Cancer Care workshop held in Kigali with the support of C/Can on July 7th, 2022:
"We need to think about the interoperability of existing initiatives in the cancer space to make sure that the patient steps down from being a care coordinator and instead can be a beneficiary. Let's think of innovative ways to re-engineer our digital solutions, and simply the existing complexity of the Cancer Patient Journey."
In order to do that, the first step is to assess and prioritise the data points that really need to be interconnected. In many cases, connecting entire data sets via software integrations does not provide any real value, in fact, it can even be detrimental to the development of impactful use cases of data sharing; in the data space, sometimes less is more. To identify key integration data integration needs, C/Can is now driving deep dive workshops and/or assessments of the local needs along the patient journey.
Recurring priorities include data linkages between screening programs and referral hospitals, direct transmission of pathology reports from laboratories to the main oncologist or feeding key treatment decisions and adherence data to the cancer registry. Furthermore, as Dr Wisdom Atiwoto, Director of Research and Information Management at the Ghana Ministry of Health points out, the possibilities are endless, and only multi-stakeholder consultation can determine where the priority resources need to be allocated:
"We want to take the opportunity of the national oncology data sharing assessment to set-up a right interconnected system empowering multidisciplinary care. But we need to know which data integrations to focus on."
Digitising the entire cancer care ecosystem offers unlimited opportunities, but not all of them are proven value-generating investments. Given resource constraints, it is critical for cities to rigorously collect data on current digital health interventions and end-user needs, while taking seriously their role in planning and optimising digital infrastructure development. In order to do that, deep dives are often required and at C/Can we have started to take the plunge to support the cities in the network facing this challenge.