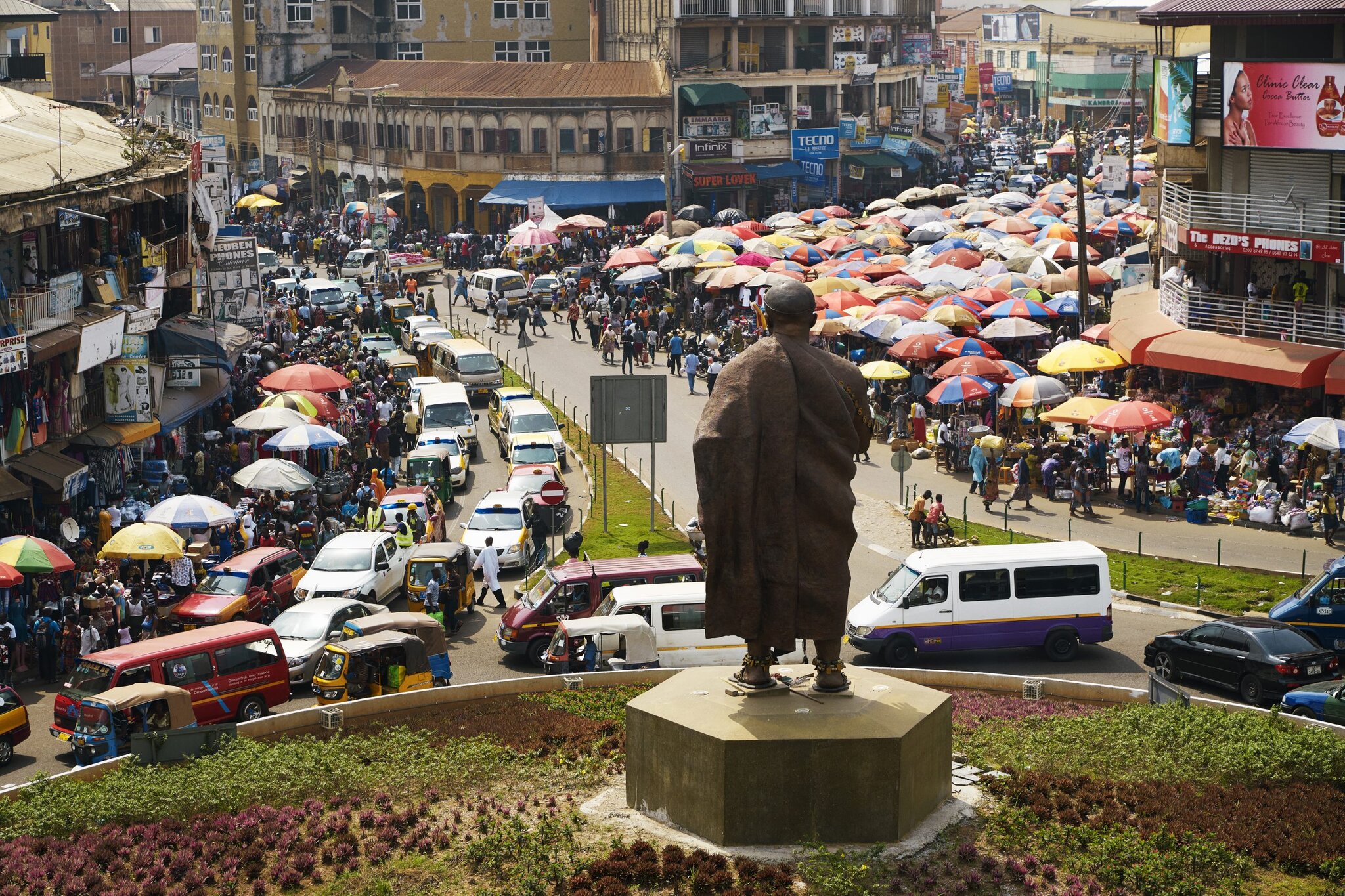 Watch the interview in full here 
In May this year, City Cancer Challenge (C/Can) invited two C/Can Project Coordinators from Kumasi, Ghana, Dr Eric Addison, Head Medical Physicist, and Dr Ernest Kwasi Adjei, Head of the Laboratory Services Directorate at Kumasi's Komfo Anokye Teaching Hospital (KATH), to a three-day retreat in Kigali hosted by C/Can, the City of Kigali and the Rwanda Biomedical Centre to facilitate the development of key cancer care solutions for the city of Kigali.
During the retreat, C/Can sat down with both experts to reflect more widely on how the unifying power of collaboration—across the C/Can city network, within their own city of Kumasi and internationally—can help achieve the common goal of patient-centred care.
Collaboration between C/Can cities 
The valuable exchange between the two C/Can cities during the retreat offers an example of C/Can cities supporting, exchanging and sharing learnings between each other. Drs Addison and Kwasi Adjei spent time with Kigali's project teams sharing what they have learned through their own experience of the C/Can City Engagement Process as well as their technical expertise and knowledge to help their peers advance on their projects' draft documents.
Local collaboration as a unifier 
Local collaboration, including the co-design of city activities, strengthening local alliances and leveraging local know-how, is foundational to C/Can's approach. Dr Addison, who leads the city project in Kumasi to develop radiotherapy services, highlighted how local collaboration has been a unifying force for the city.
For the first time, the radiotherapy-focused city project is helping to mobilise local and national key actors to deliver a Quality Assurance Program and to develop radiotherapy services for the city's hospitals that meet patient needs. The project includes participation and consultation with the Ashanti Regional Coordinating Council, the Ministry of Health, the city's public, private and university hospitals, as well as local and national NGOs, the Ghana Medical Association, Ghana Atomic Energy Commission, Ghana Society of Medical Physicists, and Nuclear Regulatory Authority.
"C/Can brought together all the various disciplines on board to speak the same language," said. Dr Eric Addison, Head Medical Physicist, Komfo Anokye Teaching Hospital and Senior Lecturer, Kwame Nkrumah University of Science and Technology.  "Now we are developing a plan that involves all other disciplines to defend the common goal that is patient care."
International technical cooperation for impact 
Technical cooperation between C/Can's network of global partners has been central to successfully delivering and implementing cancer care solutions for each city project.
The radiotherapy project developed by the local team in Kumasi has been supported by C/Can's global partner, the International Agency for Atomic Energy (IAEA). The project's draft documents were reviewed by an expert from the Agency in preparation for international consultation with a panel of experts nominated by the IAEA and industry. Once finalised, the draft documents will be submitted to the City Executive Committee for endorsement and socialised among healthcare professionals and public health agencies providing cancer care services in the city.
A game-changer for Kumasi 
As the project coordinator for the C/Can city pathology project, Dr Kwasi Adjei is leading a local team of experts to deliver a Laboratory Development Plan, a Quality Control Program, including standard operating procedures and standard pathology report, and the basis for a common Laboratory Information Management System to facilitate communication and collaboration across the city network of labs.
He described the international collaboration with C/Can global partner, the American Society for Clinical Pathology (ASCP), alongside a sense of local ownership as a "game-changer". Dr Kwasi Ajei believes that this game-changing approach will provide a lasting impact on the overall improvement of quality in pathology diagnosis of cancer patients in the city, which will ultimately provide Kumasi with the foundations to strategically respond to patient needs.
Dr Ernest Kwasi Adjei, the Head of Laboratory Services Directorate at the Komfo Anokye Teaching Hospital summed up his experience:  "Working with my colleagues in my own field and with the interaction with our international collaborators, I have gotten to learn a lot. For me, leveraging on my individual skill to implement a policy that benefits the whole society, is one game-changer. No one can take that fact from us."