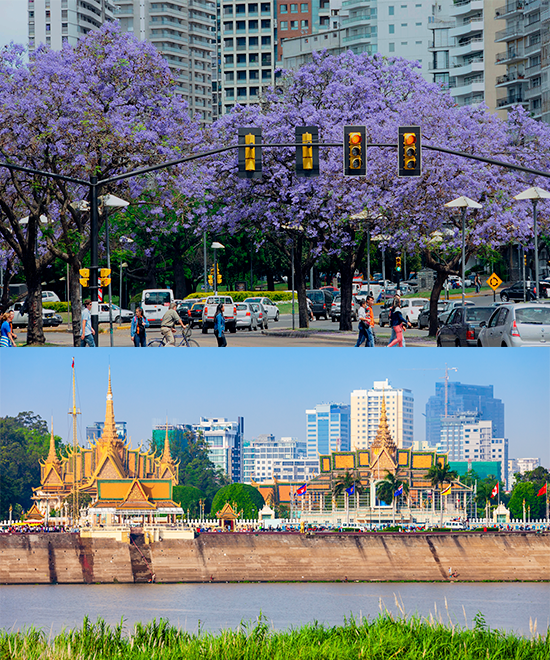 New cities come from Latin America and Asia.
Focused on innovation and sustainability, C/Can supports cities as they address the growing burden of cancer and improve equitable access to quality care.
C/Can will be announcing its next call for applications in 2023.
City Cancer Challenge Foundation (C/Can) has announced that Rosario (Argentina) and Phnom Penh (Cambodia) are the latest cities to join its global coalition working to improve access to quality cancer care. The additions bring to 13 the number of cities that are part of C/Can's mission around the world, alongside Asuncion (Paraguay), Arequipa (Peru), Cali (Colombia), Greater Petaling (Malaysia), Kumasi (Ghana), Kigali (Rwanda),  Leon (Mexico), Nairobi (Kenya), Porto Alegre (Brazil), Tbilisi (Georgia), and Yangon (Myanmar).
The announcements were made at the World Health Summit in Berlin, and will be followed by others over the coming months
Welcoming the two new cities, outgoing C/Can CEO Dr Susan Henshall said:
"We are excited that Phnom Penh and Rosario are joining C/Can's network of cities, and applaud their collective commitment to improving access to quality cancer care."
Isabel Mestres, interim C/Can CEO, added:
"Our goal is to continue transforming the way we approach cancer care  throughout the C/Can network, co-creating solutions with local stakeholders, giving a voice to our cities and empowering healthcare workers on the ground who are helping to make life-saving decisions every day." 
Transparent due diligence process
Rosario and Phnom Penh have undergone a robust, transparent due diligence process over the course of 2022, providing C/Can with a  better understanding of the local cancer care landscape, and how the C/Can model can add value to ongoing cancer care efforts in the two cities.
With a population of 1.75 million as of 2020, Rosario is the third-most populous city in Argentina, and located in the central province of Santa Fe According to Globocan, the global cancer observatory, cancer is the second cause of death due to chronic non-communicable diseases in Argentina. A fifth of deaths in the province of Santa Fe are the result of cancer.
"The cancer burden in Santa Fe affects the lives of thousands of families every year. Our partnership with C/Can will help us continue working on multi-sectoral programs to improve access to oncological care in close cooperation with international experts and interested organisations." said Sonia Martorano, Regional Health Minister for Santa Fe.
Rosario's application process was led by a coalition of local cancer stakeholders, among them representatives from the province of Santa Fe health department, including the Cancer Control Agency, the city's public health department, the University of Rosario's health faculty, oncologists from public institutions and the FAOHP children's cancer foundation.
Phnom Penh is Cambodia's capital, and with a population of 2.1 million, is its most populous city. The International Agency for Research on Cancer reports that Cambodia faces 15,000 new cancer cases each year, and estimates that it has around 15,000 cases of cancer a year from a population of 15 million. Cervical cancer incidence is one of the highest in the world.
Commenting on Phnom Penh's membership, Professor Mam Bunheng, Minister of Health of Cambodia said:
"Joining C/Can represents a major step forward in our work to improve access to better cancer care and reflects a nationwide commitment to addressing our country's growing cancer burden."
Phnom Penh's application to join C/Can was supported by the Cambodian Ministry of Health, which led a coalition of partners that included the Calmette Hospital, a Paediatric Hospital-Kantha Bopha, Douleur Sans Frontière, Mercy Medical Center in Cambodia and Japan Heart Hospital and other patient support NGO-amongst other civil society and health partners.
Next steps
Over the coming months, Rosario and Phnom Penh will work closely with C/Can on recruiting a city manager to coordinate activity, while developing a memorandum of understanding to outline the roles and responsibilities of all key stakeholders, establishing a timeline of activities and milestones.
This will be followed by the launch of the initial three year City Engagement Process during which local stakeholders will identify,  plan and execute priority cancer care solutions adapted to the city's resources.
C/Can launched the City of Tomorrow Campaign in February 2020, inviting cities from around the world to join a growing, multisectoral community. In response, 14% of cities invited to apply came from Eastern Europe; 33% from Africa; 19% from Asia; 10% from MENA; and 24% from Latin America.
Around 100 civil society organisations supported their cities' bids to join the City Cancer Challenge initiative. Shortlisted cities were then invited to complete a more detailed application, which was followed by a robust due diligence process.