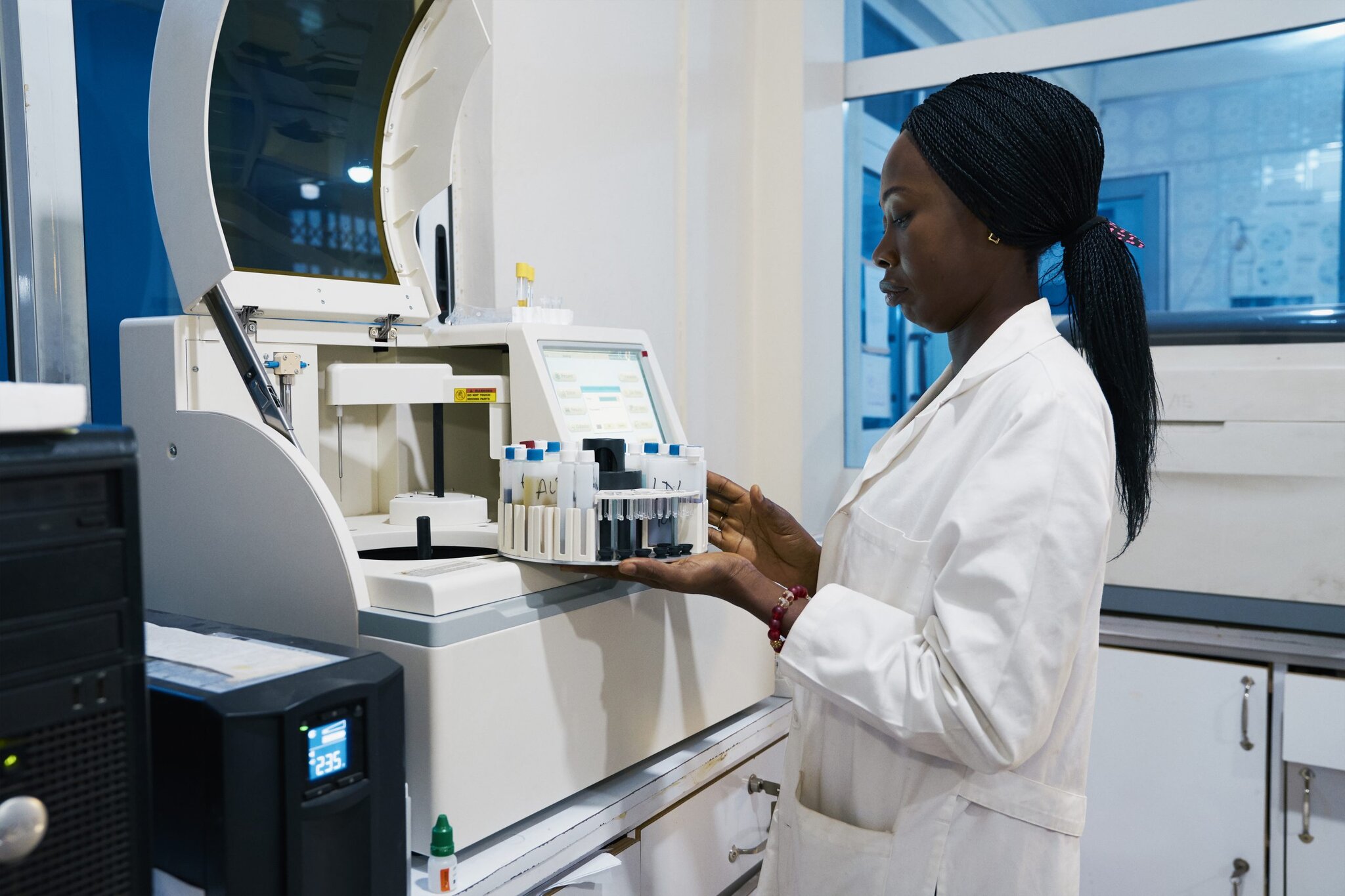 Kumasi chosen as model for best practices other C/Can cities can follow and scale up
Two projects will focus on strengthening health system capacity and cancer diagnosis
Last week, C/Can added its voice to the global call to "Close the Care Gap", the theme of World Cancer Day on February 4. To coordinate global and local action toward this objective, C/Can is spearheading the launch of the Global Coalition for Cancer Diagnostics (GCCD) to bring together government, civil society, the private sector and healthcare professionals to collectively identify, enable and accelerate the sustainable development of cancer diagnostic solutions and technologies in low- and middle-income countries.
The GCCD's first mission: co-create solutions for Kumasi, Ghana
As a starting point, the GCCD will support Kumasi, Ghana's second largest city with a population of almost four million people, to create diagnostic solutions. As the first African city to join the C/Can global network of cities, Kumasi will lead by example and its experience with real-use cases will provide a model for other cities around the world seeking to deliver best practices in cancer diagnosis.
Indeed, since C/Can was launched four years ago, improving local access to accurate and timely diagnoses of cancer has been an integral part of the organisation's work in the 11 cities where it now operates. In collaboration with C/Can's local stakeholders, along with international experts such as the American Society for Clinical Pathology (ASCP) and the International Atomic Energy Agency (IAEA), it has already supported the design and implementation of 12 projects in seven cities to improve pathology and imaging/nuclear medicine services.
Addressing Kumasi's cancer needs
The ongoing C/Can engagement process in Kumasi has empowered local leaders and decision-makers to identify, design and implement priority actions to improve equitable access to quality cancer care through a multi-sectoral and patient-centred approach.
As a result, since 2018, the city has successfully mobilised a multisectoral group of stakeholders, made up of more than 258 healthcare professionals and 53 patients from 38 public and private institutions to contribute data to a comprehensive assessment of cancer care needs.
As Sophie Bussmann-Kemdjo, C/Can's regional director for Europe and Africa, explains:
"The principal barriers to closing the care gap in Kumasi identified during the C/Can-supported needs assessment process included fragmented cancer care services due to a shortage of available cancer units in facilities and properly trained workforces (especially physicians and technologists), as well as deficient systematic multidisciplinary decision making, diagnosis (including imaging and pathology laboratory services) and treatment planning. We also noted a lack of standard protocols for cancer diagnosis, surgery, and radiation oncology treatment, along with appropriate medicines, technologies, equipment and facilities."
At the same time, the needs assessment in Kumasi highlighted barriers to timely and accurate diagnoses of cancer, which in turn leads to delays in the start of treatment and ultimately to suboptimal health outcomes.
Join the Cancer Diagnostics Co-Creation Sprint: Kumasi
On March 17, an inaugural two-day Cancer Diagnostics Co-Creation Sprint: Kumasi will bring together teams of diagnostic companies, start-ups, and local innovators with end users, governments, healthcare institutions and city stakeholders to co-create diagnostic solutions that are accessible, sustainable and serve the needs of the people of Ghana. This  city initiative to strengthen timely and accurate cancer diagnosis is being implemented in cooperation with City Cancer Challenge (C/Can) and the Deutsche Gesellschaft für Internationale Zusammenarbeit (GIZ) on behalf of the German Federal Ministry for Economic Cooperation and Development (BMZ).
Mathieu Morand, C/Can's Senior Manager for Health Financing and Digital, says the initiative will see professionals in the field tackle three key diagnostic challenges: "how to leapfrog to implementation of pathology laboratory quality improvement practices by using locally-adapted solutions; strengthening equitable access to PET imaging and nuclear medicine for Ghana and the Ashanti region; and designing a system that reduces equipment breakdown."
Challenge #1 is about defining the next chapter in quality improvement for anatomic pathology in Kumasi and helping shape the vision for what good quality looks like. Together with solution providers and local end users, the session will brainstorm, uncover, and ideate solutions to support the implementation of quality assurance more seamlessly, cost-effectively and rapidly across Kumasi's network of laboratories. Participants will then take their thinking beyond quality assurance and help to develop concrete, locally-adapted quality improvement initiatives, built around workflows, incentive systems, software, tools, equipment and technologies.
Challenge #2 builds on the continuous progress in local cancer care systems, which is opening the door to the introduction of PET imaging in Ghana's Ashanti region; none currently exists anywhere else in West Africa.  The idea is to seize this early opportunity and turn a seed of an idea into an articulated vision and mission for a new local alliance for equitable diagnostic imaging in Ghana. In collaboration with government leaders, private companies, development agencies and academic experts, participants will assess and examine the potential pitfalls and key success factors to building an efficient system-approach that champions and enables equitable access to medical imaging and nuclear medicine.
Challenge #3 addresses the question of how to establish a local preventive and breakdown maintenance system for machines and equipment in laboratories and medical imaging centers. Equipment failure and recurring maintenance are a source of high and unpredictable costs, as well as causing massive disruption and delay to the delivery of quality diagnostic services for cancer patients. This session is about rethinking how to proactively optimise equipment utilisation, prevent equipment breakdown, and reduce repair turnaround times with a more elegant, usable system built on capacity development, strengthened procedures, transparency between local stakeholders and equipment manufacturers, vendor-neutrality and reduced dependency on long term external support.
Inauguration of first of its kind Nuclear Medicine Services for Kumasi 
Over the past year, C/Can has also been supporting the Imaging project team in Kumasi to expand the specialist nuclear medicine services at the Komfo Anokye Teaching Hospital (KATH). After months of hard work and preparation, the retrofitting of a radiopharmaceutical preparation laboratory (HotLab) is expected to be completed in March, which will help operationalise the Single Photon Emission Computed Tomography/Computed Tomography (SPECT-CT).
The additional facilities and newly acquired equipment are ushering in a new era of world-class specialist nuclear medicine services for the people of Kumasi and the Ashanti region. The services are the first of their  kind and only the second in the country.  This major milestone will be marked by an official ceremony hosted by KATH with the support of C/Can and will take place on Tuesday 15 March.
Creating an interoperable lab network 
Currently Kumasi's pathology laboratories are operating with different systems and processes which are contributing to experienced inefficiencies and delays. To improve the overall laboratory ecosystem at the city level, the C/Can city project team outlined the need to bring together the 22 different private and public laboratories in the Kumasi Laboratory Development Plan.
"This has been an in-depth process led by the local team of reimagining how the city labs can seamlessly communicate and exchange data to improve the patient's diagnostic journey, " says Mathieu Morand, Senior Manager, Digital and Health Financing at C/Can. "To help us design and deploy this interoperable lab networking system, it is critical that the city of Kumasi partners with a solutions provider who has the expertise but also an understanding of the local context and realities."
Selected companies who responded to the call-to-pitch in February will be invited to make a final presentation in Kumasi on Wednesday 16 March to a selection panel of local and international experts. The selected provider will be announced later that month.
Learn more at citycancerchallenge.org/diagnostics