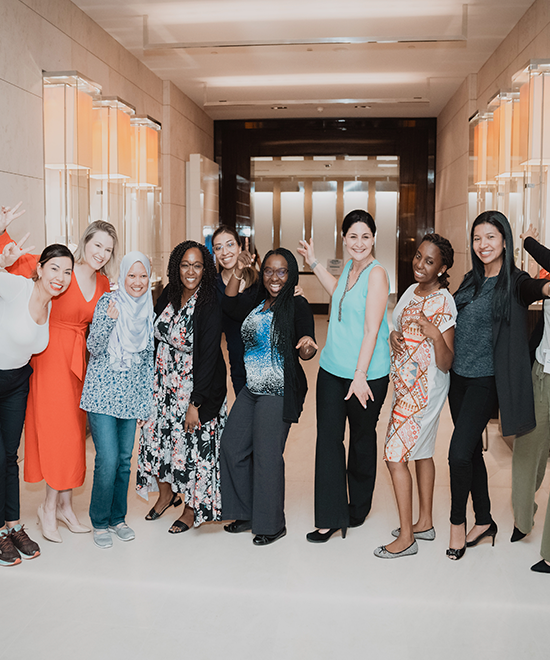 C/Can and ASCO hold the first face-to-face meeting of the Leadership Programme for Women in Oncology (LPWO) in Geneva, Switzerland
Earlier this year, City Cancer Challenge (C/Can) and the American Society of Clinical Oncology (ASCO) embarked on a joint commitment to support women leaders in low- and middle-income countries (LMICs) through the Leadership Programme for Women in Oncology (LPWO). The programme has been set up to help prepare mid-career women oncologists from C/Can cities to lead change in the cancer care sector. 
This September, C/Can and ASCO announced the successful candidates that would take part in the inaugural programme: 10 women oncologists from Cali (Colombia), Asuncion (Paraguay), Kumasi (Ghana), Kigali (Rwanda), Tbilisi (Georgia), Porto Alegre (Brazil), Greater Petaling (Malaysia), Leon (Mexico), Arequipa (Peru) and Nairobi (Kenya).
The first face-to-face meeting (17-20 October 2022) of the programme was held in Geneva, Switzerland during the week of the World Cancer Congress. The meetings featured a number of sessions focused on leadership: what leadership is, what it means to be a leader and a change agent, and on ways to strengthen key power skills for change-makers. Sessions were led by the ASCO team and facilitated by Catalina Muller, C/Can's Capacity Development Manager, who noted:
"I'm proud of the participants in this first class of the C/Can ASCO Leadership Programme for Women in Oncology. More women leaders in oncology will provide new approaches to overcoming long-standing barriers to delivering equitable, high-quality cancer care, which in turn will benefit all patients with cancer."
The ASCO team included:
Shannon Y. Moore, MD, MPH, FAAHPM, LPWO Course Director

Frank. D. Ferris, MD, FAAHPM, FAACE, LPWO Course Director; Associate Director, Hospice and Palliative Care Medicine Education OHIOHEALTH

Jamie H. Von Roenn, MD, Vice President of Education Science and Professional Development, ASCO

Vanessa Eaton, Director, International Education ASCO
A deeper dive into "what leadership is"
To kick-start the programme, introductory words were given by Jamie H. Von Roenn, ASCO's Vice President of Education Science and Professional Development.
"ASCO is committed to leadership and the healthcare workforce in low-and middle-income countries. This programme reflects our dedication to empowering and strengthening the healthcare workforce."
Jamie was accompanied by Dr Frank D. Ferris and Dr Shannon Y. Moore, medical doctors and experienced educators dedicated to developing and running capacity building initiatives that help support and build leaders in resource-limited countries. Dr Ferris and Dr Moore led the first day's session with participants actively engaged in interactive discussions that focussed on discussing leadership, what it means to be a leader and the practices of effective leaders. 
Other sessions covered change management, understanding self through Myers-Briggs Type Indicators (MBTI) and tools like the Leadership Practices Inventory (LPI) Assessment, communication skills, building a successful team, and more. The topics discussed were aimed at providing LPWO participants with tools to strengthen their transformational skills and help them use these to drive effective change in cancer care. 
Throughout the week, the importance of building a network for leadership was a recurrent topic of discussion. Dr Frank D. Ferris shares:
"Leadership is relationship – it is all about who we connect with and how we build those relationships"
"Women leading the way"
A key event for participants was the "Women Leading the Way" roundtable, which brought together LPWO participants and key women leaders in the healthcare and cancer care sectors. The event was organised as a roundtable discussion to give participants, irrespective of title, an equal standing in a discussion focused on leadership, enabling each woman at the table to contribute their perspectives and ideas to the conversation.
Each leader was given the time to share their story, the challenges and hardships they may have faced throughout their career, and what helped them become the leaders they are today. This opened a discussion between participants and roundtable speakers on key barriers that women face and on the importance of building a network – and relationships – between women that support and help each other succeed. 
Roundtable speakers:
Dr May Abdel-Wahab, Director of the Division of Human Health (NAHU) at the International Atomic Energy Agency (IAEA)
Tisha Boatman, Senior Vice President, Global Access to Care, Siemens Healthineers
Dr Julie R. Gralow, Chief Medical Officer (CMO) and Executive Vice President of ASCO
Susan Henshall, C/Can's former CEO
Isabel Mestres, C/Can's newly appointed CEO
Princess Dina Mired, global advocate for Cancer Control and Non-Communicable Diseases (NCDs)
Dr Bente Mikkelsen, Director of the Division of Noncommunicable Diseases and Promoting Health through the Lifecourse at the Regional Office for Europe of the WHO
Tamara Schudel Vice President and Head Of Global Access Policy And Advocacy at Roche
Lisa Stevens, Director, Programme Of Action For Cancer Therapy (Pact) International Atomic Energy Agency (IAEA)
To end the event, Isabel Mestres, C/Can's newly appointed CEO, talked about leadership and success:
"Your job title is not what defines you as a leader, everyone can be a leader in their own role. At C/Can I encourage collective leadership: decision making, accountability, innovation and inspiring engagement. I am a strong believer that everyone with the right training and willingness to drive impactful change can lead."
Learnings and takeaways from the roundtable event
The roundtable event was a unique opportunity for both LPWO participants and speakers to speak openly and freely about the challenges they face as women leaders in the cancer care sector. An important take home message for all women sitting around the table that evening,  was that irrespective of culture or socioeconomic context, most women leaders face the same fears. 
Participants also shared their personal key takeaways from the Women leading the way Roundtable.
Dr Livia Martínez (Arequipa)
"Every project has setbacks and resistance, but that does not justify abandoning it. Many of the women sitting there shared a painful personal experience, which instead of taking them away from their goals, motivated and empowered them."
Dr Jazmin Servin Brizuela (Asuncion)
"Be persistent, trust myself, and ask for help when I need it."
Dr Carolina López Ordóñez (Cali)
"The definition of success is very personal. And achieving a balance between all the roles we play as women is possible, we must not necessarily stop being one thing for the other. "
Dr Suniza Jamaris (Greater Petaling)
"Success is personal, it is defined by myself, and balancing work and other commitments like family is possible. Women can and should empower other women to be successful together."
Dr NDOLI Diane Andrea (Kigali)
"Leadership is measured by the change that you bring and it starts with self, hard work, persistence and confidence. Leadership is opening a door for others and being a bridge for them."
Dr Vivian Paintsil (Kumasi)
Persistence will help you achieve the goal of being a great leader because there will always be naysayers
Dr Karina Senyase Zamarripa Martinez (Leon)
"Relationships are key to leadership, and support between us women is important, because there are many obstacles, but some of them are ourselves. "
Dr Fernanda Casarotto (Porto Alegre)
"We women must keep the way open to other women. We all face different challenges but as women leaders we have a lot in common."
Dr Marina Maglakelidze (Tbilisi)
"We do not always get what we want, AND (not but) the most important thing is to never stop, to get up after a fall and move towards our intended goals."
What's next
In the coming year, participants will attend virtual monthly sessions, hosted by ASCO, that will focus on elaborating and strengthening the leadership skills they need to achieve meaningful transformation in cancer care. The programme will close with an in-person meeting at the 2023 ASCO Annual Meeting in Chicago.
Vanessa Eaton, ASCO's Director of International Education, Department of International Affairs, explains:
"To ensure sustainability and lasting change through this programme, participants will also have the chance to partner with ASCO alumni who will offer mentorship to support and advise them in their continued professional development."
The LPWO is part of C/Can's efforts to enhance the capacity of local healthcare professionals. By creating an international network and community of women leaders, C/Can and ASCO seek to generate a multiplier effect that will pave the way for a new generation of women.
C/Can would like to thank Roche for their continued support with this initiative