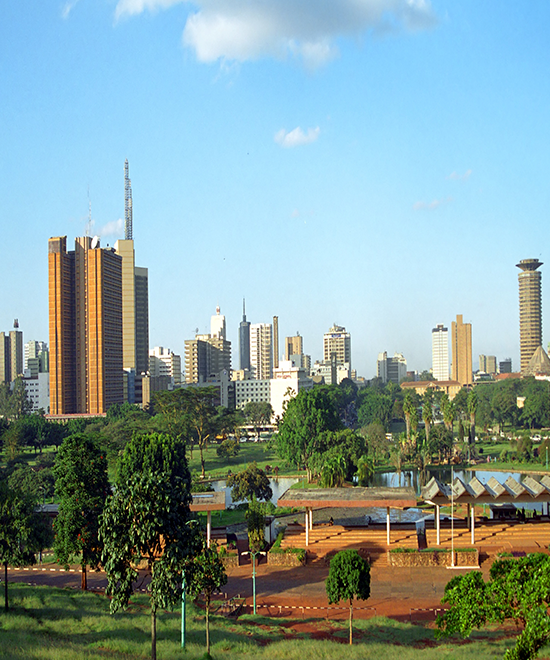 Rise of more than 120% in new cancer cases expected over next two decades in Kenya.
Cancer is the third leading cause of death in Kenya.
Focused on innovation and sustainability, City Cancer Challenge supports cities as they address the growing burden of cancer and improve equitable access to quality care.
C/Can will be announcing its next call for applications in 2023.
Nairobi joins the C/Can network in driving change in cancer care
Geneva, January 12, 2022. Following Arequipa, Nairobi becomes the 11th city to join the C/Can global network of cities working together to improve access to quality cancer care. The announcement coincides with C/Can's third anniversary as a standalone foundation.
With the announcement, which took place today, Nairobi becomes the third C/Can city in Africa, alongside Kigali, in Rwanda, and Kumasi, in Ghana. Some 33% of cities that answered C/Can's call for applications, issued in October 2020, came from Africa.
"I would like to welcome Nairobi to C/Can and applaud the political commitment made by national stakeholders together with Kenyan Network of Cancer Organizations to work towards strengthening the health system for improved access to quality cancer care," said C/Can CEO Dr Susan Henshall.
In addition to being the capital of Kenya, Nairobi is the East African nation's largest city, with a population of 4.4 million. Cancer is the third-leading cause of death in the country after infectious and cardiovascular diseases. According to the Ministry of Health of Kenya, between 2012 and 2018, the annual incidence of cancer in Kenya increased from 37,000 to 47,887 new cases. During the same period, annual cancer mortality rose by 16%, from 28,500 to 32,987. The number of new cancer cases is expected to rise by more than 120% over the next two decades, according to Globocan.
"Effective cancer prevention and control calls for a multi-sectoral and multi-disciplinary approach. Working with C/Can will greatly contribute to better collaboration with non-state actors to reduce the incidence of cancer and improve the quality of care for those who develop cancer in Kenya," said Lt. Gen Mohamed Badi, Director General of the Nairobi Metropolitan Services.
In 2017, Kenya launched a five-year National Cancer Control Strategy built on a multi-sectoral approach, involving stakeholder ownership, client-centred, quality care, evidence-based orientations, equity, and universal coverage, accountability, rights-based and using technology.
"The Ministry of Health is delighted that Nairobi has been chosen as the third city in Africa to join the City Cancer Challenge initiative. We look forward to working with the support of the C/Can network of global, regional, and local partners to co-create and implement customized solutions to identified priorities within the local context that will improve access to quality cancer care in Kenya," said Ms Susan Mochache, CBS, Principal Secretary, Ministry of Health Kenya.
The Nairobi application process was led by the Kenyan Network of Cancer Organizations (KENCO), the national umbrella body of over 35 registered cancer civil society organizations, spread throughout the country, active in various aspects of cancer control in Kenya and committed to a united response against the disease.
"Joining C/Can represents a major step forward in our work to improve access to better cancer care and reflects a nationwide commitment to addressing our country's growing cancer burden," said Christine Mugo-Sitati, Executive Director of KENCO.
Over the next three months, Nairobi will work closely with C/Can regional and global teams, recruiting a locally based city manager to coordinate activity, while developing a memorandum of understanding to outline the roles and responsibilities of all key stakeholders, establishing a timeline of activities and milestones.
This will then be followed by the launch of the City Engagement Process, whereby over the course of two-to-three years, local stakeholders identify, plan and execute priority cancer care solutions adapted to the city's resources.
Among the organisations that supported Nairobi's application to join the City Cancer initiative following C/Can's call for applications in October 2020 are the Nairobi Metropolitan Services, the Ministry Of Health, National Cancer Institute of Kenya, the NCD Alliance Kenya and the Kenya Childhood Cancer Trust.
Alfred Kiragu, CEO of the National Cancer Institute of Kenya stressed the importance of working with C/Can. "Together with C/Can, Nairobi – our most populated city -will be better able to identify the major cancer care gaps we face and develop local solutions that could, later on, be scaled to other cities in the country or turned into national policies."
A robust, transparent due diligence process
Building on C/Can's experience from previous applicant cities, Nairobi has undergone a robust, transparent due diligence process over the course of 2021, allowing C/Can to better understand the local cancer care landscape, engage with key stakeholders, and assess to what extent the C/Can model could add value to ongoing cancer care efforts in the city.
Other applicant cities from around the world continue to undergo due diligence including on-site visits, that have in some cases been delayed by the pandemic.   These cities will continue the process, with other successful cities to be announced throughout 2022.  C/Can will be announcing its next call for applications in 2023.
About City Cancer Challenge 
C/Can supports cities around the world as they work to improve access to equitable, quality cancer care. Since its launch in 2017 by the Union for International Cancer Control (UICC), C/Can has developed a new model of addressing access to cancer care that, for the first time, leverages the city as a key enabler in a health systems response to cancer.
Media contacts