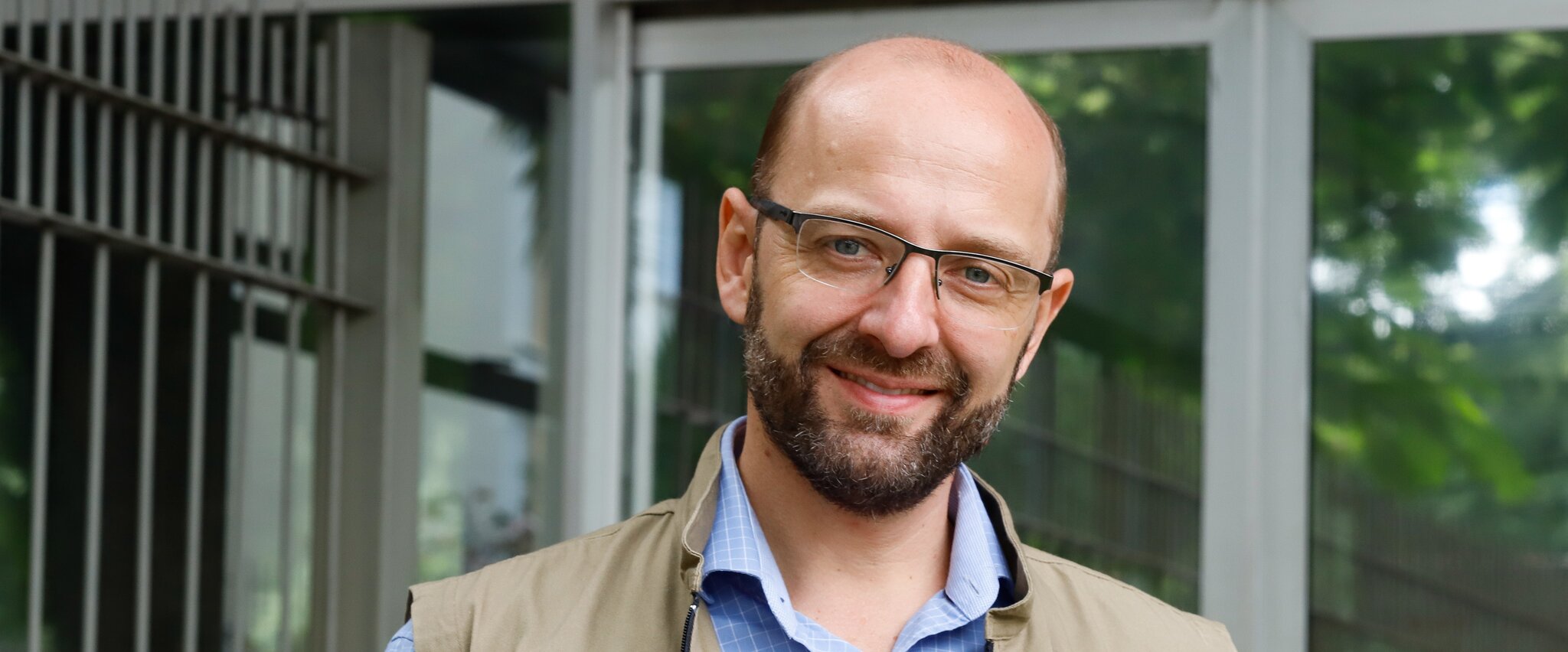 Dr Fernando Ritter has spent his career in the southern Brazilian city of Porto Alegre: a dentist by training, he is also a specialist in epidemiology and has extensive experience in different areas of public health. The leading roles he has occupied in Porto Alegre's health system—among them coordinator of Basic Health Care, the Municipal Institute of Family Health Strategy and secretary of Health—have given him a privileged overview of the city's healthcare needs. He is currently Director of Health Surveillance in Porto Alegre.
Since joining C/Can in September 2018, Porto Alegre has begun identifying, designing and developing sustainable cancer care solutions that respond to local needs. To coordinate this, a multisectoral City Executive Committee (CEC) has been set up to guide and oversee the C/Can process. Dr Ritter is C/Can's principal contact at the city's Secretariat of Health and has been supporting C/Can in Porto Alegre to develop pathology and data registry projects directly and is leading efforts there to develop a local policy to tackle cancer.
Having worked with a global network of experts and organisations in different policy areas and sectors, how would you assess C/Can's multisectoral approach to improving access to quality cancer care?
City Cancer Challenge (C/Can) plays a fundamental role in helping to tackle a problem that impacts hugely on the lives of the people in the cities where it operates. This will give cities greater scope for action while facilitating the development of public policies aimed at addressing real needs, thus helping to avoid unnecessary costs and especially deaths.
In addition, C/Can assists in developing leaders and facilitating integration between sectors, both in the public and private spheres, with the objective of building sustainable solutions for fighting cancer and, consequently, saving lives.
What are the main gaps in cancer care in Porto Alegre and how are C/Can and its partners dealing with them?
Porto Alegre's main goal is to cease being the state capital with the highest cancer mortality rate in Brazil. To do this, we need to identify those patients affected by cancer in its initial stage, provide them with treatment and specialised care, and follow up over time. We should not forget that the longer it takes to get someone into treatment, the more costly it is for the public health system and the lower the likelihood is of patients surviving.
In the case of breast cancer, which is now one of the main causes of cancer deaths among women in Porto Alegre, [see figure 1], each week of delay, for example, means a 1% less chance of cure for that person.  For men, lung is the main type of cancer [see figure 2]. Tackling this has to be directly connected to primary prevention actions, which includes raising awareness among the public about  exposure to risk factors and the need to adopt healthier lifestyles by reducing the consumption of red meat, alcoholic beverages and cigarettes, as well as encouraging people  to exercise and protect themselves from sun exposure. In addition to encouraging an increase in the vaccination rate, especially against HPV and Hepatitis B, along with regular preventive monitoring by health teams for the early identification of cancer are also essential.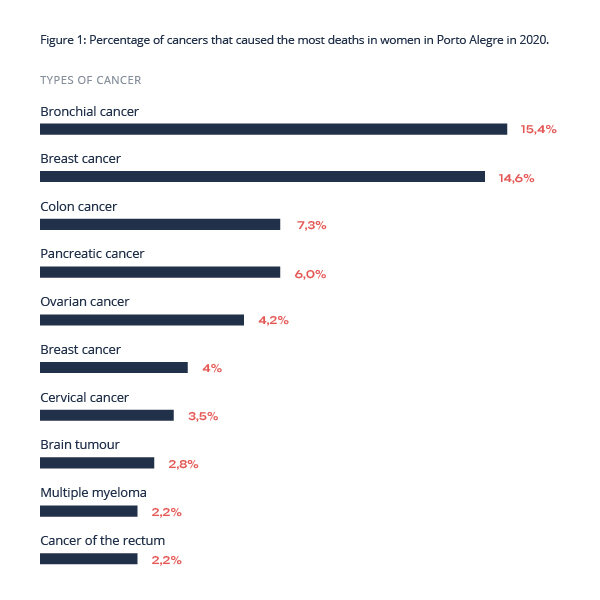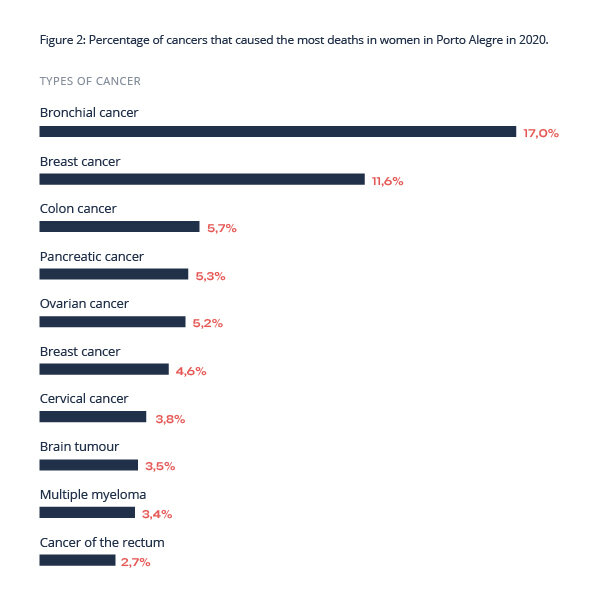 Source: SIM/EVDANT and Oncology Panel – DataSus – consultations carried out on 01/12/2022
What are the benefits for cities in LMICs of a data-driven approach to cancer care?
Data collection and systematisation are the key  tools for organising the work process in managing  chronic diseases at the municipal level, even more so with an aging population and increased life expectancy. Data should support decision-making by local management and help channel resources to the people who need it most.
Data primarily contributes to improving the early identification of cancer and thus ensuring access to treatment in a timely manner, with real prospects for a cure. In addition, data will facilitate the development of public policies aimed at prevention by  integrating all points of the care network, especially specialised and primary health care. Finally, data generates quality indicators that are tools for measuring and monitoring the city as it strives to o improve the care process for people living with cancer.
Based on your contribution to the C/Can sustainability process, can you tell us more about how the organisation works with its partners to ensure continuous improvement?
The city of Porto Alegre, with the help of C/Can, intends to organise the care process in a more systemic way for people living with cancer, aligning it with concepts and practices that are recognised worldwide. The goal is to unify databases at all stages of the process of coping with cancer, from the identification of people at greater risk of developing the disease, as well as the early identification of the disease, treatment and rehabilitation.
This will allow us to control the organisational processes: cost-effectiveness, people management (ongoing education campaigns), implementation of protocols and arranging levels of care, thus enabling the improvement of services and consequently the indicators of care quality for people living with cancer.
The pillars of this approach are: focusing on raising public awareness; data integration; taking a systematic view of the care network; process optimisation; evidence-based decision-making; proactive leadership and closer coordination with partners.