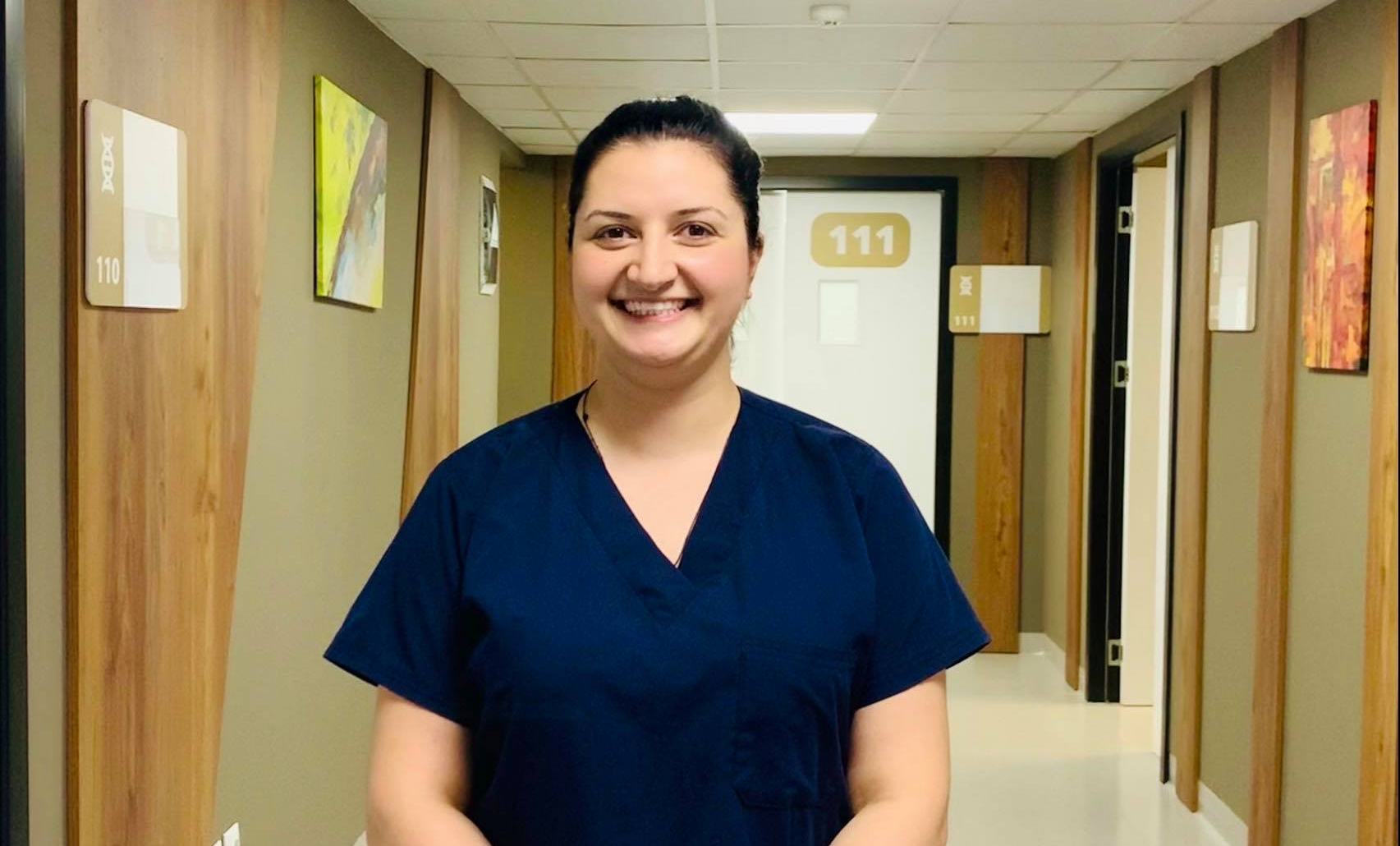 Ana Khmaladze is a Senior Nurse at the clinical oncology department of Tbilisi's Caucasus Medical Centre. She has over 17 years of experience in nursing, and over 12 years working in oncology. She has been strongly involved in C/Can's technical working groups in the Georgian capital, working on a Quality of Cancer Care Project and an Education and Training Project. 
What role does a nurse have on a cancer patient's journey?
A nurse plays a critical role in health and has the potential to improve healthcare systems. We have a person-centred job that includes caring for patients, continuous monitoring of patient needs, responding to medical interventions, patient and community education and the identification of gaps for service improvement. 

Our main goal in oncology nursing is to restore and maintain the health of patients, ensure disease prevention and to care for sick and terminally ill patients, giving them improved quality of life.

The World Health Organisation recognises that nurses play the most cost-effective and crucial role in mortality, morbidity, disability and promoting a healthy lifestyle. 
As a nurse, what do you see as the main challenges for cancer nurses in the city of Tbilisi? 
The Georgian healthcare system is experiencing an acute shortage of qualified nurses. One of the reasons for this is the lack of occupational prestige, which in turn, implies a lack of awareness of the importance of the profession, in both medical and non-medical communities. 

Moreover, nursing is not a regulated profession in Georgia, and there is no continuous education system that monitors the qualifications of nurses and service quality. It is not mandatory for nurses to continue their education by taking additional training courses, or further degrees, as we do not have a list of nursing specialties. 

Oncology nurses need significant additional knowledge and skills to implement nursing activities. This includes working with cytostatic drugs, understanding the characteristics of phlebotomy and managing the side effects of chemotherapy. There are also deontological, moral and legal elements to be taught when treating cancer patients. 

The WHO has made the training and education of nurses a strategic priority, particularly the provision of higher nursing education and the improvement of basic and continuous education.

Governments, health-care institutions and care providers must understand the challenges that exist, and the need for nurses to continue training. Medical advancements, the development of new technologies, reforms, community needs and growing consumer expectations means that nurses must be able to activate evidence based knowledge to keep up with the needs of our health systems. 
What are some of the projects that the city is working on through the support of C/Can that addresses these challenges? 
I'm involved with two key projects that have been co-created with the City Cancer Challenge Foundation. 

There's the Education and Training project, where one of the outputs is to develop a recommendation document to develop and introduce Educational Modules that are specifically designed for Oncology Nurses. These courses will be designed for the Institute of Postgraduate Medical Education and Continuing Professional Development. 

The other project is set to improve quality of care, specifically making a recommendation to the Ministry of Health to strengthen the multidisciplinary approach to oncological cases. This recommendation elevates and highlights the importance of a nurse's role in this team and in the provision of cancer care. 
Could you tell us more about the importance of a multi-disciplinary approach when treating cancer patients? 
Quality cancer care is highly dependent on the effective functioning of a multidisciplinary team (MDT). In Georgia, there have been several efforts to improve multidisciplinary care by introducing specific MDT meetings, where specialised physicians come together with nurses and other professions to discuss and agree the best diagnostic and treatment plan for individual patients. 

In November 2022, a Management Course for Multidisciplinary Care was held in Tbilisi with the cooperation of C/Can and the American Society of Clinical Oncology (ASCO). This workshop demonstrated the crucial role of nurses in multidisciplinary teams. It was a great learning opportunity to see how other countries use MDTs and for me to be a part of this learning process.
What would you say to young professionals who are interested in a career in nursing?
Nursing is a challenging career. Studying nursing can be demanding, stressful and tiring. But on the other hand, caring for patients is very motivational, and can be very exciting.

Nursing is also about having the ability to communicate and encourage a patient to trust you at all times. One of the most rewarding aspects of my career is connecting with patients on such an intimate level. While we often meet under very difficult circumstances, we get to know our patients quickly and have the opportunity to play an important role in their lives. 

The work of a nurse in a hospital is as important as the work of a doctor. I encourage everyone interested in a career in nursing to take on this adventure.