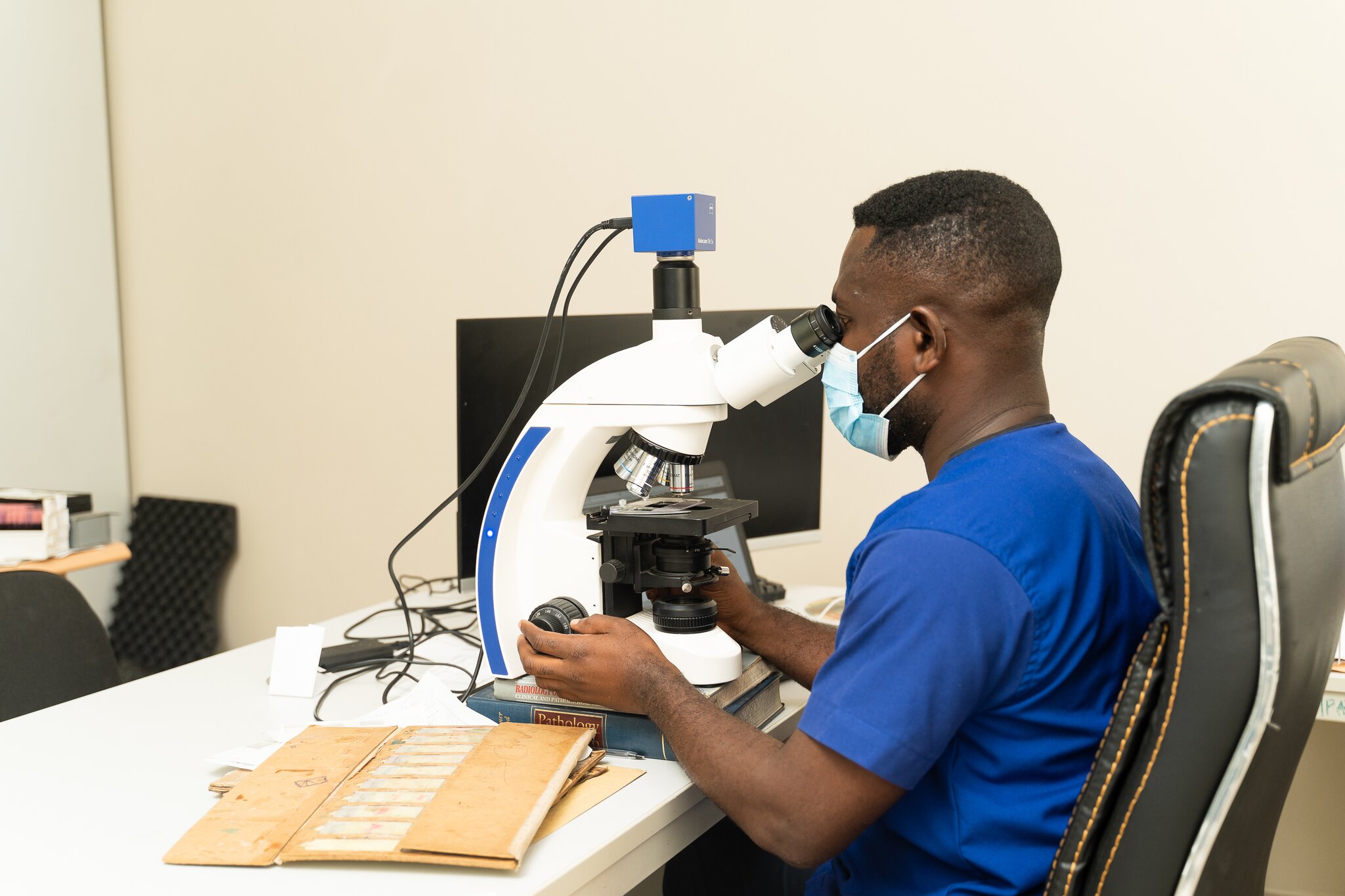 Diagnosing and treating cancer early are among the most pressing health challenges that the world faces. Quite simply, without accurate, quality pathological diagnoses, patients cannot be treated. Pathologists' reports on cancer biopsies and resections provide the critical data—diagnosis, staging, and critical prognostic and predictive information—required for clinical management and feeding information into cancer registries.
In many of the countries where C/Can works, pathology reports are still written out in narrative form, with no guidelines or standardisation, despite the International Collaboration on Cancer Reporting's (ICCR) internationally-agreed, evidence-informed datasets, which are aimed specifically at ensuring complete and conformant cancer reports for treatment and epidemiology.
One of C/Can's goals in Kumasi has been to bring Ghana's second-largest city in line with ICCR procedures. At present, the city's 22 public and privately run laboratories (including pathology) operate as stand-alone entities, using different systems and processes. In response, as part of the City Engagement Process (CEP), C/Can in partnership with the American Society for Clinical Pathology (ASCP), has been working with stakeholders to set up a project focused on pathology diagnosis, whilst building laboratories' capacity.
The result is the Kumasi Laboratory Development Plan, which aims to bring the city's pathology laboratories within a single ecosystem of reporting diagnoses.
The plan will see the implementation of a structured pathology reporting system (SPRS) in all of Kumasi's pathology laboratories that will allow pathologists to complete cancer reports based on the latest international evidence-based standards, while at the same time creating a formatted report that can be integrated into electronic medical and laboratory information systems, and then generate a file that can be sent to a population-based cancer registry.
This will be a game-changer, as Dr Ernest Agyei, Head of the Laboratory and Diagnostics Department at the Komfo Anokye Teaching Hospital in Kumasi, explains: "The adoption of structured reporting standards in Kumasi will improve the quality of cancer diagnosis, reduce turnaround times and eventually lead to optimised and timely treatment decisions for better outcomes, as well as raising the bar in terms of the quantity and quality of data in the Cancer Registry."

Dr Akosua Gyimah Omari-Sasu, Metro Director of Health Services for Kumasi Metropolitan Assembly, adds: "The roll-out of SPRS will help improve and harmonise pathology diagnosis of cancer patients, which will translate into faster and more accurate diagnoses while laying the foundations to strategically upgrade Kumasi's diagnostic services, so as to better respond to patients' needs."
The next step is to plan for scale-up at the national level so that the Ministry of Health, with support from the Ghana Health Service, will own the project, embedding the system into the existing health care structure.
The Kumasi initiative is part of C/Can's broader commitment to digitisation in the cities where it operates. In December 2021, the organisation signed a global partnership agreement with SmartReporting to explore the potential of digital solutions to standardise diagnostic reporting across pathology and radiology services and enable the deployment of SaaS solutions in C/Can cities.
At the local level, C/Can is leading the digital transformation project of five anatomic pathology laboratories in Kumasi, facilitating the local project team decision making and bridging the information gap to the tech partner.
For more information on C/Can's work in Kumasi, click here.
This project was implemented by City Cancer Challenge in cooperation with the Deutsche Gesellschaft für Internationale Zusammenarbeit (GIZ) on behalf of Germany's Federal Ministry for Economic Cooperation and Development (BMZ).