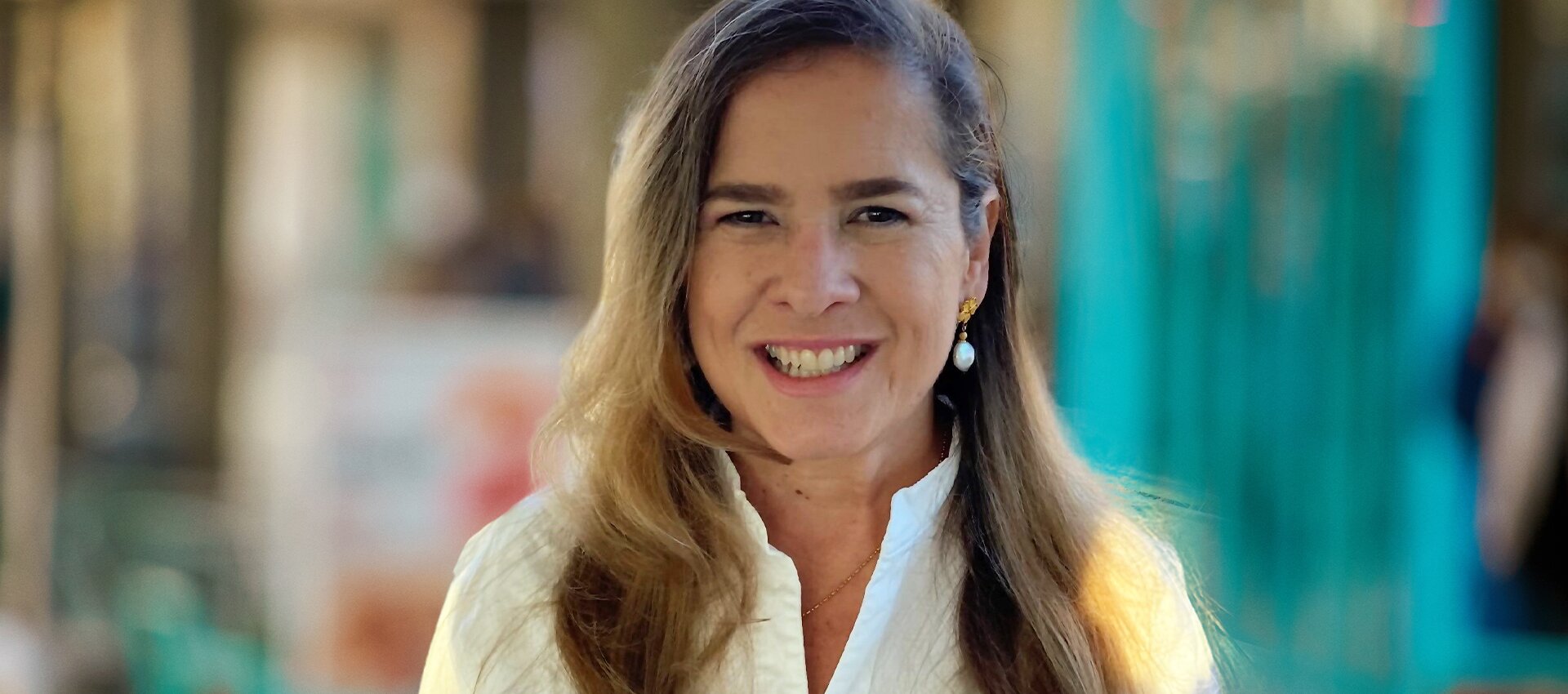 Dr Diana Paez is the Head of the Nuclear Medicine and Diagnostic Imaging Section of the IAEA's Division of Human Health, where she leads the Agency's efforts to provide comprehensive support to establish or strengthen the practice of nuclear medicine and radiology within the context of appropriate use, safety, and quality of clinical practice.
In this interview, she discusses the importance of early cancer diagnoses and the role that screening programmes, a data-driven approach, along with medical imaging and nuclear medicine must play in public health strategies in LMICs.
It's long been recognised that complete, timely and accurate diagnoses are vital to determining the best treatment plan for cancer patients. But in low- and middle-income countries (LMICs), accessing patient information remains a major challenge. In your experience of LMICs, what are the key evidence gaps in local early diagnosis programmes, particularly in the areas of medical imaging and nuclear medicine?
Timely diagnosis of cancer often decides whether a given patient's cancer is curable or not. In terms of medical imaging and screening, breast cancer is the prime example already embedded in global public health strategies. Mammography and ultrasound are key. The IAEA is participating in the development of the WHO Global Breast Cancer Initiative. Two IAEA staff are the U.N. leads of two of the GBCI working groups, hard at work.

But once a cancer is diagnosed early, disease staging becomes immediately critical. Has the disease spread? This dramatically alters clinical management. And cancer staging is most frequently done via medical imaging: multimodality medical imaging, tailored to the type of cancer and the particular patient scenario. Let's take cervical cancer as an example. The WHO "pink book" on cervical cancer considers abdominal ultrasound "mandatory for staging", hopefully early. Likewise, updated FIGO staging for cervical cancer highlights MRI for accurately measuring tumor size and depicting parametrial involvement – potential disease adjacent to the uterus. Gauging lymph node involvement has also been emphasized in the updated FIGO staging; specifically, cross-sectional imaging—in particular PET/CT—has an increasing role in the delineation of nodal disease. PET/CT is nuclear medicine.

Permit another important example of imaging and early diagnosis: lung cancer, the number one cancer killer. Improved patient outcomes are possible when caught early. In multiple countries, lung cancer screening with low-dose CT is being implemented broadly for high-risk patient populations with success; for example, in the U.K. In the U.S., relevant USPSTF guidelines were just updated in 2021. But developing countries have largely not been active in implementing similar programs.

And screening isn't just for cancer-free patients. Consider screening for liver lesions with ultrasound in known colorectal cancer patients. The U.K. NHS has shown that ultrasound screening of this patient population, with early treatment of liver metastasis, can definitively prolong survival through 5-year follow-up and enhance quality of life. This has long been the case in high-income countries.

So, we're working towards extending the potential of imaging – both radiology and nuclear medicine – to all cancer patients, everywhere. This includes addressing gaps in availability of patient information, such as comparative prior imaging and linked patient data.
The WHO says that under 30% of LMICs have widespread access to diagnosis and treatment services. Why do you think oncology imaging is often overlooked in these settings?
Multifaceted issue. Allow me to answer in part. Imaging is a dynamic field. The first CTs appeared in a few clinical settings in the 1970's. The first prototype PET/CT scanner became operational in 1998. Not long ago. Over the past few decades, these and other multimodality imaging technologies truly blossomed, now proven to contribute very meaningfully to improved cancer patient outcomes. The scientific evidence-base is there. However, these are expensive technologies and require complex infrastructure, including safety. Nonetheless, global public health strategies are gradually integrating long-term plans for upscaling medical imaging, including human resources. It's a question of national priority setting and support from entities like the IAEA, taking all epidemiologic needs into account for both communicable and non-communicable diseases. Phased approaches to upscaling imaging – both radiology and nuclear medicine – are needed to render these programs sustainable.

As well, the heavy reliance of treatment on imaging is increasingly being recognized.

Moreover, consider the role of minimally invasive image-guided procedures. Interventional radiology spans the spectrum of image-guided biopsies to image-guided ablation of tumours to image-guided palliative procedures – like ureteral stent placement in the setting of advanced cervical cancer. So many common, life-changing examples. And 100% of radiotherapy treatment planning is done with imaging. Think of cancer surgery planning without imaging? These topics are appropriately surfacing in high-level public health dialogues.
Staying with LMICS and the challenges they face, in a recent article, Medical imaging and nuclear medicine: a Lancet Oncology Commission, you and your colleagues identify major shortages in equipment and workforce.  Could you outline some of the reasons for this?
Again, the history of imaging has to be understood. A lag often exists between implementation of scientifically proven technologies in higher-resource vs. lower-resource settings, not unique to medical imaging technologies. In the case of imaging, modalities are multipurpose. For example, use of a CT scanner is enshrined in clinical guidelines for patients with cancer, cardiovascular diseases, and COVID-19 complications. So, planning of imaging can be difficult if isolated to one disease category, when in reality the technology is used for many. The exceptions to this are mammography, nearly 100% used for breast cancer, and PET, for which over 80% of imaging is cancer-related – over 90% in most countries.
Turning to the IAEA, what is the organisation doing to help build or strengthen LMIC cancer care capabilities through nuclear medicine and radiology?
Take the example of the Lancet Oncology Commission on Medical Imaging and Nuclear Medicine. The process leading to the publication of this commission began in November of 2017 during the World Cancer leaders' summit, in Mexico City. The initiative came from Dr Miriam Mikhail, starting to rally support in 2015, now working at the IAEA, and was supported Dr David Collingridge, Editor-in-Chief and Publisher of The Lancet Oncology. In July of 2018 we convened our first formal commissioners meeting at the IAEA. Professor Hedvig Hricak, head of radiology at Memorial Sloan-Kettering, was chosen to lead the steering committee in parallel to an IAEA Secretariat. The commission ultimately comprised 27 leading nuclear medicine, diagnostic imaging, oncology and radiation oncology professional organizations. The aim of the Commission was to provide data and guidance to act as a catalyst for sustainable change in medical imaging and nuclear medicine for cancer management. We succeeded.

We respond to requests from Member States.  Almost 25% of the projects implemented by the IAEA are in the field of Human Health – including nuclear medicine, radiology, radiation oncology and nutrition. In all phases or stages of implementation

Advising on how to justify a new department, modality or application.
Providing guidance on the planning and setting up of the right department, adapted to demographic and epidemiological needs.
Supporting the continuing professional development of staff.
Promoting the appropriate use of each type of medical imaging (the right test for the right patient).
Advising how to adhere to international and national standards and regulations, including radiation protection.
Encouraging the implementation of comprehensive, patient-centred quality management systems in nuclear medicine (QUANUM) and radiology (QUAADRIL) and radiation oncology (QUATRO).
And encouraging LMICs to be part of Coordinated Research Projects (CRPs) and contribute to resolving gaps in medical evidence.

Only in the past 10 years (since 2012) 500 IAEA projects aiming at establishing or strengthening nuclear medicine (NM) and radiology have been implemented in 144 countries or territories. We now have 238 ongoing Technical Cooperation projects towards establishing or strengthening NM and radiology in 108 countries. Since 2012, more than 200 medical imaging training courses have been organized by the IAEA, with over 4700 participants. Over 1500 fellows have been trained. We have organized five cost-free conferences; the latest – IPET-2020 – had over 3000 participants from 126 countries.

Only in 2020, we invested more than 40 million euros in purchasing medical equipment, including SPECT / CT, x-ray units and CT scanners.

Every year we also support thousands of professionals from low and middle-income countries to access the main international meetings organized by professional organizations.
The Lancet Oncology commission says scaling up access to medical imaging could prevent 2.5 million deaths by 2030, and that combined with quality diagnosis and treatment would avoid a total of 9.6 million deaths.  This represents a return on investment of $12 for every $1 invested. What can be done to persuade decision-makers that diagnostic imaging is not an expense, but an investment in a healthier population that saves money in the long term?
We are doing our utmost to show that such strategies concretely improve patient outcomes. For example, saving the life of a mother with breast cancer or cervical cancer prevents a child from becoming a maternal orphan and ultimately yields a huge humanitarian and socioeconomic benefit. Such data engage the public health sphere and inform the rational development of implementation strategies, including at the grassroots levels of patient awareness.
As said, scaling up access to medical imaging is essential if we are to reduce cancer deaths. But as you have noted, doing so will require a data-driven approach.  Can you give us some specific examples of how this is being applied and how it is improving access to quality cancer care in LMICs?
The IAEA Medical imAGIng and Nuclear mEdicine global resources database, IMAGINE. We compiled data on the availability of human resources and equipment.  Over 60% of data included in IMAGINE came from IAEA sources. In fact, we started the compilation of nuclear medicine-related data in 2006 and radiology in 2014. The remaining 40% was extracted from other organisations such as WHO, COCIR, OECD, and professional organizations as well as an extensive review of literature.

IMAGINE presents the striking differences in availability and access to nuclear medicine and radiology. In high-income countries, 25,000 inhabitants are served by 1 CT scanner compared to 1.7 million people per CT unit in low-income countries.

But the number of scanning machines in a given place does not constitute an outcome in itself. This data has to be combined with demographic and epidemiological data, which is compiled and maintained by organizations such as the International Agency for Research on Cancer (IARC) of the World Health Organisation, and with evidence-based clinical guidelines. This was done by the commission and is entering the narratives of National Cancer Control Plans, in-country implementation projects, and more.

Is there anything else you would like to add?

Bear in mind that medical imaging is often an intermediate step in cancer management. Outcome metrics should include requisite intermediate clinical steps to achieve the best possible treatment. Thank you very much for this opportunity to discuss the pivotal role of medical imaging for so many cancer patients. Together, we are making a difference. The IAEA looks forward to continuing to collaborate fruitfully with City Cancer Challenge (C/Can).
As Dr Paez points out, City Cancer Challenge is reimagining a more locally-led globally supported approach to strengthening cancer diagnostics. C/Can, along with its partners, including IAEA, is helping to form a Global Coalition for Cancer Diagnostics, a public-private initiative of diagnostic organisations, civil society, local innovators, and advanced start-ups and healthcare professionals, dedicated to identifying, enabling and accelerating the development and implementation of cancer diagnostics and technologies in low-income countries, starting with Ghana in Kumasi.
More information can be found here: https://citycancerchallenge.org/diagnostics/