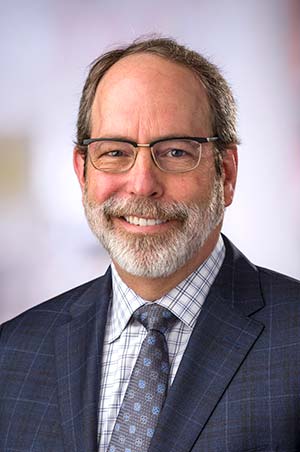 Key highlights from Episode 1 of our new series In Conversation With features Rolando Camacho, Global Technical Lead at City Cancer Challenge Foundation (C/Can) talking to Dr Ben Anderson, Director of the Breast Health Global Initiative (BHGI) at the Fred Hutchinson Cancer Research Centre and WHO consultant. Dr Anderson explains his role in helping to develop the C/Can-BHGI Guide for Developing Resource-Appropriate Breast Cancer Management Guidelines and its impact moving forward.
Rolando Camacho: You are a pioneer in the resource stratification approach. How did this come about, and how do you see the role of resource-appropriate guidelines in improving breast cancer care in low- and middle-income countries (LMICs)?
Ben Anderson: We first started working in LMICs in 2002. The problem is that the breast cancer guidelines at the time had been developed for high-income countries and were very difficult to apply in LMICs because they assumed we had all of the available tools.
In response, at the Breast Health Global Initiative based at the Fred Hutchinson Cancer Research Center, we developed an approach to analyse how we look at guidelines in limited-resource settings and we developed resource stratification. This involves using the standard tools used for early detection, diagnosis, and treatment and you lay those tools out in a prioritization scheme. Some are mandatory basic level resources, if you don't have this, biology tells us you won't be able to address cancer. In the case of breast surgery, we can't cure breast cancer without removing the primary tumour, so surgery would be a basic level resource.
We developed a second tier of limited or core-level resources that will improve survival; many of our drug therapies fit into this category. We have high-level data showing that if we are able to properly administer these drugs we can make major improvements. Enhanced level resources might not necessarily improve survival, but will improve the therapy. For example, being able to do breast conservation where we do a lumpectomy with radiation rather than mastectomy. Women don't live longer because of breast conservation, but it means more women are likely to participate.
In short, we're defining a ladder where we can build these programmes in ways that are functional, and that is the fundamental approach of the Breast Health Global Initiative and resource-stratified guidelines.
Rolando Camacho: C/Can organised an international consultation to review the draft guidelines prepared by C/Can cities in collaboration with the American Society of Clinical Oncology (ASCO), and including, as per nominated by the American Society of Clinical Pathology (ASCP), the International Atomic Energy Agency (IAEA),   the International Society of Nurses in Cancer Care (ISNCC) and regional organizations on palliative care. We asked an expert to review the final draft of the guidelines before submitting it to the Ministry of Health. We did this in Cali, Asuncion and Yangon. We learned that the professionals there had the knowledge to develop great guidelines, but they all identified a gap: the process of how to develop the guidelines.  We then invited you, the expert who did the final review for Yangon, to develop what I called a "guide on how to do". What was your reaction?
Ben Anderson: I was really pleased to be able to work with C/Can on this because working at the city level is very practical and meaningful. But it's important to understand that while the guidelines are important, the process of developing them may be more important than the final outcome.
That's because you need to have the people who are going to be using the guidelines or the people that are providing the resources through which the guidelines are going to be implemented. What we've tried to do lay out a systematic approach for people in the country where we're operating, so it's the people on the ground deciding how they're going to take this forward.
Rolando Camacho: That's a great point, totally agree.
The process to develop the guidelines is extremely important because promoting the integration and participation of different components of the multidisciplinary team – the structures that support implementation and ownership, develop the ownership. Then, a favour is needed.
Ben, after many years of practising as a breast cancer surgeon and leading the Breast Health Global Initiative, you are also now a WHO consultant – how is it? But also, what do you think the guide can contribute to the efforts of the WHO to the Global Breast Cancer Initiative, and what are your thoughts on C/Can's contribution?
Ben Anderson: There are many reasons why breast cancer is a logical next step for the WHO after their work on the childhood cancer initiative and the cervical cancer elimination initiative. I worked with WHO colleagues on the cancer team to work out how this framework and approach could best be applied. We need to remember that solutions that work in one country may not be right for others with different issues and limitations. That's why the work that we did with C/Can to develop this guideline approach methodology is so important, because it's the people in the city that are going to be identifying what they can do within the framework.
The WHO's GBCI was launched on March 8, International Women's Day. More than 500 participants from more than 70 countries took part. It's really to take this work to the next level and make practical applications that can make meaningful changes at the global level; it's thinking at the city, country, and global level, using a framework that is evidence-based and that's what gets us back to those guidelines that we're working on together.
Rolando Camacho: The experts who have read our guide agree it will be a great help in improving the quality of breast cancer guidelines to be implemented into a wide diversity of settings.
Ben Anderson: It's wonderful to hear that this approach is being adapted to these different settings; and there's a learning opportunity there as well, because there will be some things that cities each do differently, and that is an opportunity for the rest of the world to learn. What made them similar? What made them different? How can they be applied?
This is how we're going to make these major steps going forward at that higher level where we learn from each other, so I admire what City Cancer Challenge has been doing and look forward to the results that come from this in the future.
Rolando Camacho: We have made a promising start. What impact do you think the product will have?
Ben Anderson: The guide that C/Can and the BHGI developed relates to how we use resource stratified guidelines at the city level. I'm very excited about this product, as it will be helpful, not just to City Cancer Challenge and countries in general, but to the World Health Organization and its Global Breast Cancer Initiative.
Rolando Camacho: Why is it so important to involve all relevant individuals and organisations from the beginning when developing a guideline?
Ben Anderson: We follow a set of steps to develop these guidelines, recognizing that it's not just a single application, but that we have to make sure that all the relevant people have been able to contribute to and examine it right from the start.
While physicians might identify the medical management steps that need to be taken, we also have to talk to the administrators who are making the resources available for the purchase of equipment and who need to know about continuity. It's also vital to have the nurses on board because they are responsible for administering care and they will understand limitations that the physicians may well not. At the same time, we need to know what the technicians think is realistic. In short, we define a guideline and then present it to all the stakeholders involved and listen to their feedback: that's what makes it something that goes beyond a written document into something that is really functional. And it's equally important to remember that, after one has started to do this work, the guideline may well need to continue to evolve, so revisiting this at some time period down the road is important.
I think this is particularly important because the ultimate product that's being presented to the minister of health will be a complete package so that when they endorse the guidelines, they know that this has been fully thought-through and will be successful.
Rolando Camacho: Before drafting the recommendations for diagnosis, staging treatment, and care, we advised our cities to have a clear picture of the particular situation they have through a city assessment including health system capacity, facilities, human resources, access. How do you value this?
Ben Anderson: For the guidelines to be meaningful, you have to identify what comes next, and that means knowing what you have now. Where are we in our city? What resources are in place? Where are the gaps within that? The people looking at the guidelines need to identify whether they're reasonable or realistic, rather than an aspirational goal that might be possible in a decade, but that isn't practical today. Guidelines should not just be a sheet of paper; they need to be a living document based upon the current situation and showing our next steps going forward.
Watch the full interview here.