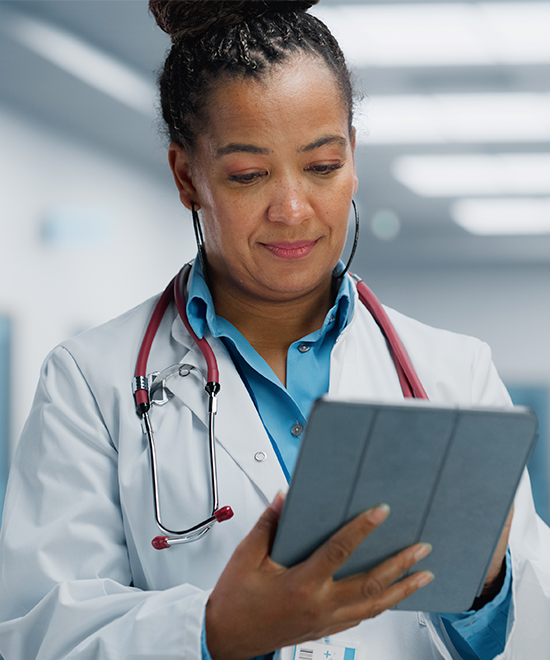 The breathtaking leaps being made in healthcare technologies are transforming the way that healthcare providers deliver care – and how patients, particularly women, access support and treatment.
The world is moving rapidly towards digital health – from the adoption of drone technology delivering life-saving health commodities to telemedicine that is connecting specialists with hard-to-reach patients," says Dr Akosua Gyimah Omari-Sasu, Director of Health Services for the City of Kumasi and a member of the C/Can City Executive Committee.

"We must embrace this direction, but also ensure that the leaps forward don't leave our women and girls behind.
In Africa, more than 40 countries have national digital health strategies. It is a reflection of the growing recognition by leaders of the role that digital health plays in achieving a country's development and health goals, including advancing gender equality.
Take for example, a woman who is suspected to have cervical or breast cancer and will necessarily require a biopsy," says Ms Emma Brew Abaidoo, the Head of Laboratory at Kumasi's Peace and Love Hospital and technical committee member of the C/Can Pathology Project. "But because most pathologic cancer care involves a lot of imaging, biopsies and laboratory assays, which are conducted at different facilities and involves different healthcare providers, a woman can spend a lot of valuable time travelling to different care facilities during the diagnostic process.
In Ghana and other low- and middle-income countries, the cost and personal risk of travel and loss of income from taking time away from work present considerable barriers that can hinder many women from seeking care.
A C/Can city project linking the information management systems of all 15 public and private laboratories across Kumasi is helping to overcome these inefficiencies – enabling greater collaboration and data exchange, which in turn will significantly reduce wait times and the need for patients to travel to multiple facilities.
Digital health solutions not only offer benefits in terms of efficiencies, convenience and cost savings, it also presents a compelling opportunity to empower women to take their health into their own hands – literally.
In Ghana, over 80% of women own a mobile phone and we're increasingly seeing women learning to navigate digital solutions for their own health. We want to get to a point where technology offers the ability for a woman to access her own pathological reports on her phone, to make her own appointment to see a doctor, and to discuss treatment options and plans using her phone," says Ms Abaidoo.
To unlock the full potential of digital health solutions, the equal involvement of women is required in developing these solutions. Although there is wide acknowledgement that women are vital to the transformation of digital health, there is a persistent lack of women working in digital health, and even fewer taking on leadership roles.
Women have been mostly side-lined when it comes to technology," says Dr Omari-Sasu.

"There are very few role models in this space for others to follow. When an area is new and relatively unknown, women may opt for roles that are more familiar, where remuneration is more secure and where career advancement pathways are clearer.
To encourage more women to pursue digital health as a career path, Dr Omari-Sasu suggests "creating opportunities for training that will provide them with the skills and support to succeed in this area, to recognise their work, and give greater visibility to the women already working in digital health as an example for others to follow."
In general, women make up the majority of healthcare workers. For Ms Abaidoo, it therefore stands to reason that the people who are on the frontlines of care should also be involved in shaping its future.
With increasing numbers of women suffering from cancer in our country, we need more women in digital health. They bring a unique perspective and understanding of the health needs of women, which can inform innovations that not only look good on paper but actually make a difference in real-life care settings.
For Dr Omari-Sasu, she is optimistic that more women will lead and contribute to the nation's digital transformation of healthcare. "A future with more women in digital health is a brighter future for the city of Kumasi and Ghana."
Read C/Can's guidance on adopting digital health solutions in LMICS.
References
A 2021 Gallup poll reports that 85% of women in Ghana own a mobile phone, compared to 87% of men