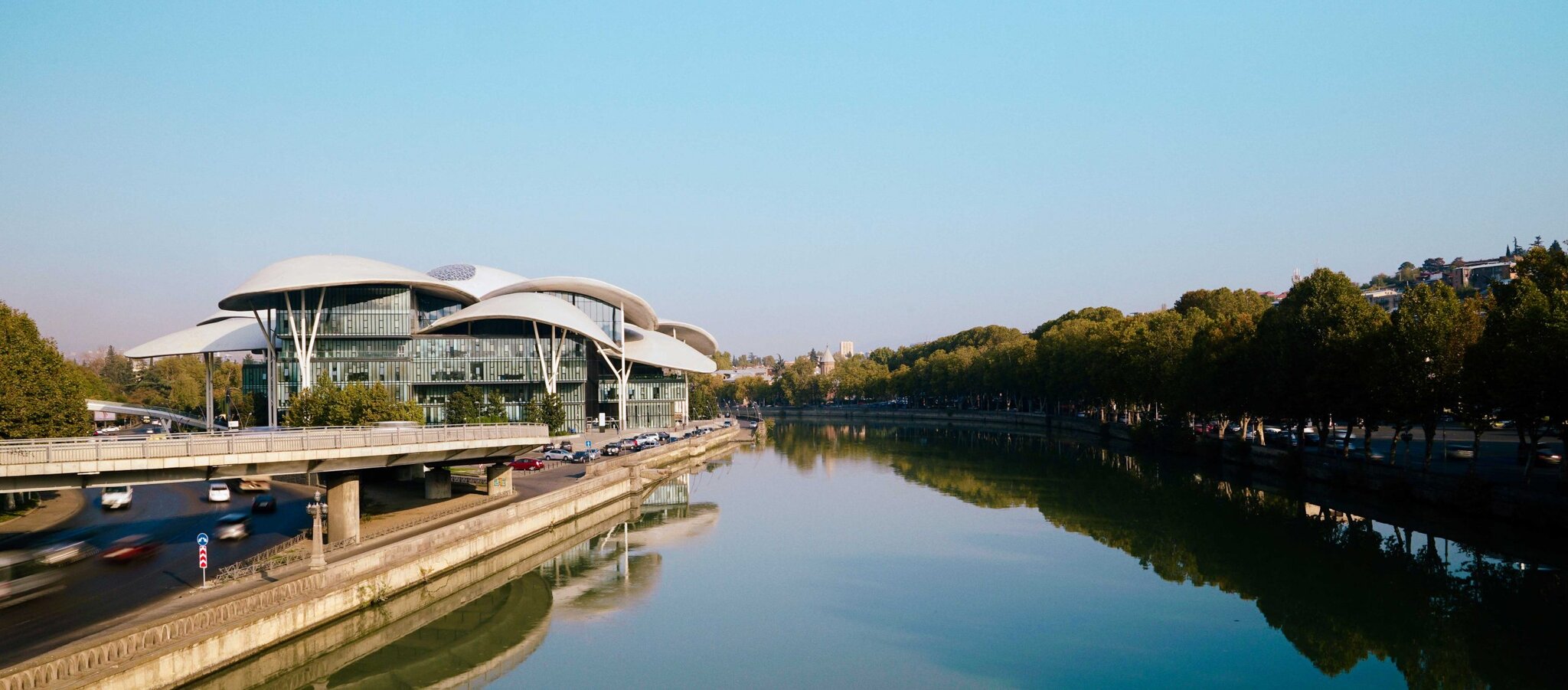 Nuclear Medicine expert visits Tbilisi: brings greater focus to PET-CT demand
Scientific visits help drive project implementation success
International consultations support finalisation of city projects
Since Tbilisi joined City Cancer Challenge (C/Can) in 2019, the capital of Georgia has made steady and continued advances in closing the gap in cancer care. This year has seen accelerated progress of the city's seven prioritised projects, including a drive to expand the city's Nuclear Medicine capabilities, the participation of 21 city stakeholders in six scientific exchanges, and international consultations for a number of key draft documents.
Significant steps to strengthening Nuclear Medicine 
As part of Tbilisi's city project to address diagnostic imaging and nuclear medicine capabilities, two international experts from Austria and Italy nominated by C/Can partner, the International Agency for Atomic Energy (IAEA), were invited to visit Tbilisi to assess the demand for PET-CT—an important nuclear medicine technique delivering medical diagnoses.
During the two-day visit in October, the experts visited all PET-CT clinics in the city to better understand the capacity and capabilities of each centre. The second day was dedicated to a workshop to discuss the city's PET-CT demand and to raise awareness of the role of nuclear medicine in cancer care among local health professionals, including nuclear medicine specialists, oncologists, neurologists and urologists.
"The visit by the nuclear medicine experts was hugely significant: it helped to raise the interest of increasing the capacity for PET-CT services in the city, which is an important first step in securing commitment to expand nuclear medicine services in Tbilisi," says Dr Natalia Shengelia, Nuclear Medicine Specialist, Head of Nuclear Medicine Division, Radiology Medicine Center and Aversi Clinic.
As a result of the visit, a technical document outlining the potential demand for PET-CT is currently being finalised, which will be used to help advocate for the inclusion of nuclear medicine services under Georgia's Universal Health Coverage plan.
Scientific visits supporting project implementation  
As well as visits by experts to Tbilisi, local city stakeholders had the chance to visit many of C/Can's reference centres: leading hospitals, cancer institutions and cancer registries in Austria, Italy, Serbia, Spain and Ukraine.
This past November and in December, members of the project teams from Tbilisi spent a full week with experts to learn best practices in their field to help support the setting of objectives and action planning for project implementation in the city.
"These scientific visits gives us the opportunity to assess where you are, and to identify the weak chains in your work in order to improve it," reflected Dr Nana Mebonia, Head of the Division of Non-communicable Diseases, National Center for Disease Control and Public Health, who took part in a visit to Catalan Cancer Plan and Cancer Registries. "For example, during the visit I learned about how the Cancer Control Plan Department produces forecasts of the country's cancer burden based on the cancer registry database, and is something that I would like to introduce in Georgia."
For C/Can's reference centres, hosting a scientific visit represents an opportunity to share their own experience, knowledge and approach to cancer care.
"The scientific visit organised by C/Can is an opportunity for organisations like Hospital del Mar, Barcelona, to give back to the wider international health community. By sharing experiences with other fellow colleagues, it makes all of us wiser and so, patients in both countries will benefit from the improved healthcare initiatives that this interaction triggered," says Dr Maria del Mar Vernet-Tomas, Breast Diseases Unit, Hospital del Mar, Barcelona.

International consultations brings new perspectives to city projects 
Also supporting the success of project outcomes are the international consultations and external review processes of draft city documents, such as adapted clinical management guidelines, quality assurance guidelines, development plans, and training modules and programmes.
External reviews of the draft documents by international experts represent an important measure to ensure the draft reflects international quality standards, benchmarks and best practices. In Tbilisi, experts from the American Society for Clinical Pathology (ASCP) have completed the review of four draft documents from the Pathology Project, while international consultations are currently underway for a number of other city projects, including for Imaging and Radiotherapy with experts from the International Atomic Energy Agency (IAEA), the European Society for Radiotherapy and Oncology (ESTRO) and industry partners; Quality of Cancer Care, with the American Society of Clinical Oncology (ASCO), ASCP, IAEA, and the International Society of Nurses in Cancer Care (ISNCC); as well as the Cancer Registry project which is being reviewed by a leading expert from the International Agency for Research on Cancer (IARC).
"Having the opportunity to consult with experts from C/Can's international network of partners has been extremely valuable in gathering new perspectives, suggested improvements as well as recommendations so that it equally addresses local needs, as well as stand up to international quality benchmarks," explains Natia Verdzadze, C/Can's City Manager in Tbilisi.