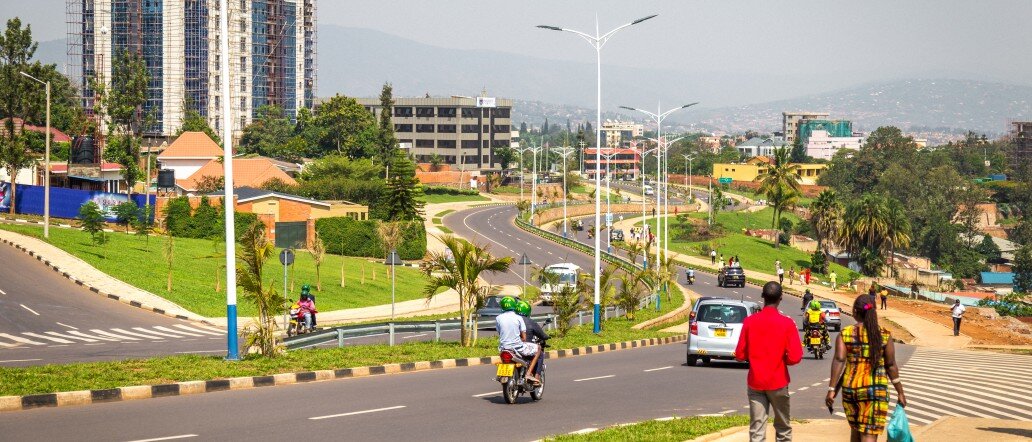 City Cancer Challenge was launched by the Union for International Cancer Control at the 2017 World Economic Forum Annual Meeting in Davos, Switzerland.
The City of Kigali responded to City Cancer Challenge´s call to action for a novel approach to cancer care in November 2017, inviting Challenge Cities to come forward.
City Cancer Challenge Kigali
A City Cancer Challenge Foundation delegation concluded a three-day visit to Kigali yesterday to provide support for the ongoing engagement process. Led by Mayor Pudence Rubingisa, the C/Can Kigali Executive Committee met on Tuesday to review the key tasks identified during the Kigali needs assessment process and to prioritize actions to address them:
Creating a platform for communication and information sharing between different institutions involved in cancer care.
Improving access to quality, safe and affordable cancer medicines.
Standardizing clinical management of prioritised cancers in all institutions providing cancer care.
Providing comprehensive support to cancer patients and their families throughout the different stages of care.
Training to improve human resources in all disciplines related to cancer care.
With the signing of a memorandum of understanding (MOU) in March 2019, Greater Kigali joined a growing movement of cities around the world working with a multisectoral network of partners to plan and deliver local cancer care solutions. Signatories of the MOU include the City of Kigali, Rwanda Palliative Care and Hospice Organization and Polyfam Clinic.
Referring to the progress made, Pudence Rubingisa, Mayor of the City of Kigali said:
"Through C/Can, the city of Kigali has the opportunity to deliver more effective and efficient cancer treatment solutions by leveraging existing infrastructure at different levels of the healthcare system in the city, as well as through a good partnership with key local players who implement cancer and NCD related activities."
Some 126 specialists from 31 institutions were involved in the needs assessment process that was successfully completed in July 2019. The implementation phase of the C/Can Kigali initiative coincides with the finalisation of the Rwanda National Cancer Control Plan 2019-2024 and the setting up of a national cancer registry.
It is recognised that many people in Kigali have as-yet undiagnosed cancers: late-stage diagnosis and the associated challenges of treatment are top priorities for Rwanda's healthcare provider, as Dr Diane Gashumba, Rwanda's Health Minister explains:
"Through the C/Can initiative, we hope to streamline the parallel public and private health systems already in place here in Kigali City so as to provide better solutions for early diagnosis, and treatment and that will result in better patient outcomes."
WHO and IARC data shows that 10,704 new cancer cases and 7,662 cancer-related deaths were reported in Rwanda in 2018. Countries like Rwanda face a growing cancer burden: forecasts for cancer incidence and mortality by 2025 are 10,112, with 4,479 deaths among men and 5,633 among women. Rwanda has a national health insurance plan that makes healthcare services, including cancer diagnosis, more affordable for lower-income citizens.
Sophie Bussmann-Kemdjo, C/Can's Africa Regional Director, highlights the importance of strong commitment and engagement from the government and senior officials and institutions as well as other key local stakeholders in implementing projects to achieve equitable access to quality cancer services in Rwanda. She outlines the challenges:
"Our raison d'être at C/Can is to support cities as they lead solutions, design and implementation by collaborating across sectors, forming effective partnerships, learning and sharing best practices in the fight for equitable access to quality cancer care. We are thrilled by the potential of the City of Kigali to serve as a model for other cities in Rwanda and Africa."
On Sunday 10th November, the Rwandan Ministry of Health hosted a multisector gala dinner at which Her Royal Highness Princess Dina Mired of Jordan, President of the Union International for Cancer Control (UICC) was the guest of honour. The event was held to highlight the critical importance of multi-sector collaboration in driving local cancer care solutions and included a call to action for all parties to bring their unique experience to the table and to leverage their networks.
"Rwanda is an example of how political will, realistic planning, prioritisation and appropriate resources can work together towards the implementation of concrete measures to reduce the national cancer burden" HRH Princess Dina Mired, President, UICC