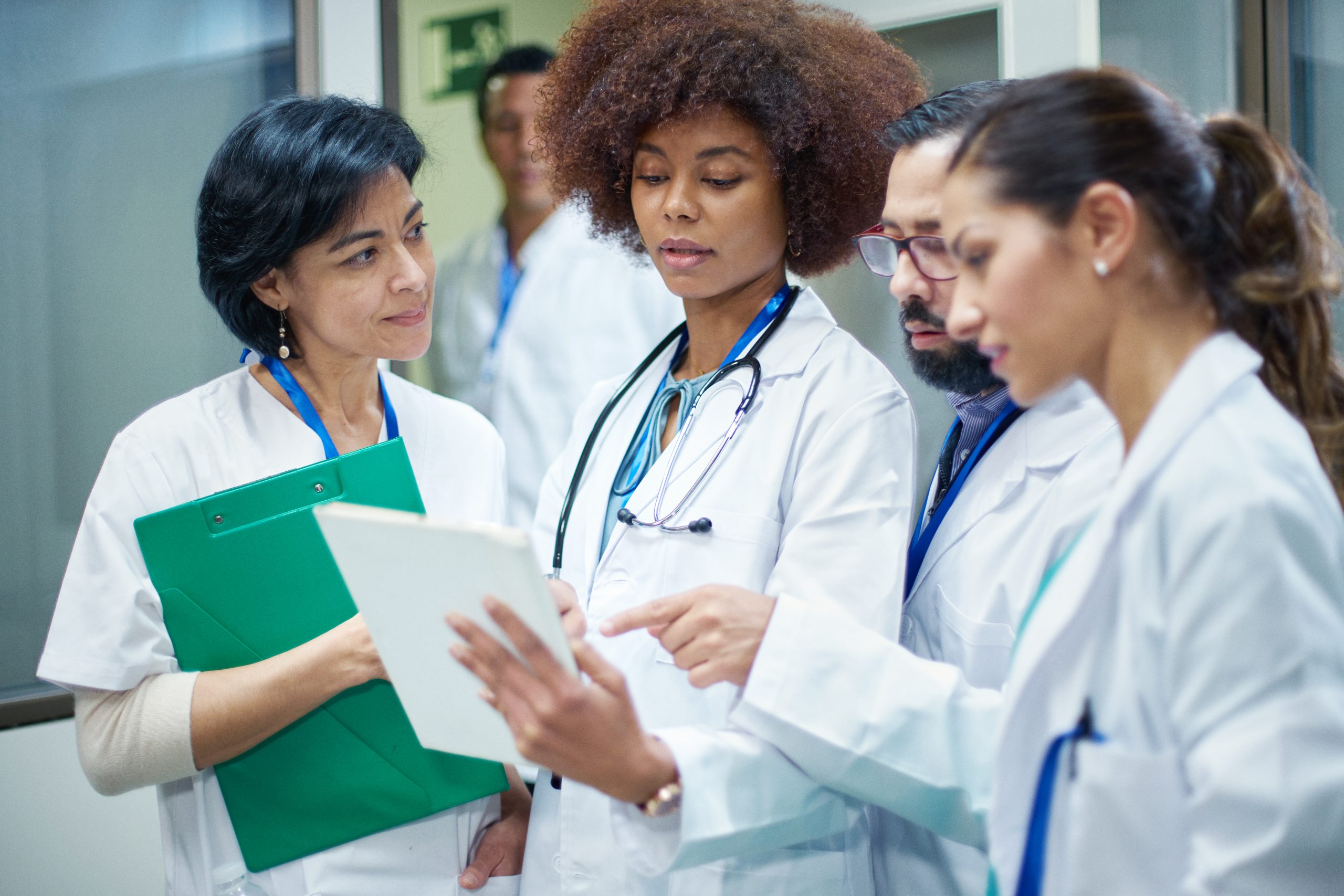 Part of our Inside Stories series looking in-depth at City Cancer Challenge's (C/Can) approaches to reducing the burden of cancer in its global network of cities, this is the third and final article on how digital strategies are transforming cancer care. The roll-out of technology in healthcare institutions around the world is already improving the quality and accessibility of cancer treatment in low- and middle-income countries (LMICs), where C/Can prioritises the integration of digital health solutions. 
The first story looked at data: digital technology enables us to capture, connect, contextualise, process, and analyse information in ways which were not possible until recently. 
The second article outlined the importance of creating a culture where people are trained in how to get the most from technology: it's only when healthcare professionals start applying the potential of digital transformation in their everyday work that technology catalyses positive change. 
This final piece will look at the role policy must play to underpin a successful digital transformation, and how C/Can addresses this through coordination with its partners to shape the rules, guidelines, procedures and planning at all levels of healthcare systems. 
"Working closely with its stakeholders and partners, C/Can is building on its experience in the cities where it works, constantly applying new knowledge to create the environments needed to move from small-scale institutional digitisation to fully systemic and sustainable digitisation, which is built on policy," explains Mathieu Morand, Senior Manager for Health Financing and Digital at City Cancer Challenge.
Creating a policy ecosystem where digital transformation thrives
An effective digital health strategy should bring together a range of care levels and support to different disease areas' on integrated platforms, thus avoiding duplication. But while a strategy can provide a framework to do this, failure to take into account factors such as hyperlocal conditions, training or funding availability can make it harder to develop coherent solutions. 
For example, in highly fragmented healthcare systems, national digital health policies are hard to implement and are sometimes ignored by federal states, regions and cities. Which is why C/Can always encourages its stakeholders to ensure that city projects adhere to and align with existing national and regional policies. 
At the same time, as Fred Kwame Awittor, C/Can's Digital Health Manager, points out, C/Can initiatives also act as a catalyst of change for national programming and policies. Most of the time, cancer is excluded from national digital health strategies but C/Can's grass roots approach makes it possible to integrate vital local intelligence into national level policies.
"In Ghana, the Ministry of Health is now recognising the efforts of Kumasi to leverage digital solutions to strengthen cancer diagnostics and is now directly driving digital networking between pathology laboratories while endorsing the use  of digital multidisciplinary teams."
Another critical policy aspect is the existence of policy frameworks enabling data sharing between institutions. Their absence significantly slows down or prevents any improvement of multi-institutional care, which is the standard in multi-disciplinary cancer pathways. 
In Leon, Mexico, the situation analysis report revealed the urgent need to connect data systems between institutions. A highly fragmented healthcare system means, there is no existing policy enabling data sharing beyond the federal obligation to feed a national registry, which is not currently implemented. But creating dedicated inter-institutional data sharing agreements is a difficult process, as Edwin Vargas of Guanajuato state's health department explains:
"There is immense potential in connecting essential cancer data across institutions in Guanajuato via a unified database, but there is no legal framework currently enabling that centralised collection of data." 
Then there is the question of establishing the minimum requirements for patient data hosting and data analysis. This is an area that typically offers potential for partnerships with private companies with expertise in digital data processing, given that state authorities rarely have such expertise in-house. The Centre for the Fourth Industrial Revolution Rwanda (C4IR)  supports the national government in creating a clear environment for research collaborations, while protecting patients' rights for confidentiality and data protection. Joris Cyizere is Strategy Lead at C4IR Rwanda, which brings together government, industry, civil society and academia to co-design, test and refine policy frameworks and governance protocols.
Establishing the right protocols
The key to sustainable digital platforms is establishing the right protocols, which is done by defining clear use cases. C/Can's experience shows that too often, digital solutions are deployed without the underlying protocols, defining roles and responsibilities, and interaction modalities. Those policies, if not at the national level, need to be developed at the institutional or multi-institutional project level.
For example, deploying a digital platform to enable patient navigation means defining the roles and responsibilities of the patient navigator, interaction between multidisciplinary care teams and the digital platform, and laying down clear guidelines on how to make the most of the digital platform.
Another example is how hospitals are adopting more and more digital tumour board platforms, but clinicians need to define clearly the standards of patient case presentation, the patient data to be collected and who has responsibility over the availability and quality of that data. C/Can projects focus on defining such inter-clinicians agreements, as was recently completed in Kumasi. Ishmael Kyei, surgeon at the Komfo Anokye Teaching Hospital (KATH), in Ghana's second city, explains: 
"The potential of digital multi-disciplinary platforms is immense for the city of Kumasi, where only the teaching hospital of KATH has all specialties. But as many institutions are involved, we had to gather all specialties to reach a consensus on the standards to be used on the platform. Otherwise, we can't ensure that the platform will be used appropriately." 
At the end of the day, digitisation is only a process enabler, but it is critical that the process is defined and endorsed by the relevant authorities.
Another critical policy aspect is the definition of data administration rights. For each digitisation platform involving clinicians and/or patients, local project teams often forget to clearly define the access rules: who can view, edit and manage what. As well as problematic situations of unprotected data, lack of transparency can also create a climate of mistrust between users. This is critical when different levels of care and different healthcare professionals are involved. 
C/Can has seen how its digital transformation projects often highlight the gaps in protocols and policies. Because of the rigour they require, during the transformation journey, local city stakeholders see the need to clearly define the way data is being managed. 
Deploying software policies effectively
Over the last four years, C/Can has come to see that the only way to scale digital programs beyond a pilot stage in individual organisations, and instead to do so across institutions, is to develop a mandate to use a particular software solution in the institution and to train users appropriately. 
The role of central authorities in managing change is very important, insists Fred Kwame Awittor:
"Any mandate should ideally define how to involve end users, how to measure usage, measure satisfaction, bring end-user feedback to the system and define overall an adequate change management policy.
This is the next level of sustainable change that the local C/Can initiative aims to achieve. We therefore call on partners to bring their experience and expertise, and join the movement with us to help achieve comprehensive long-term digital transformation policy mandates.