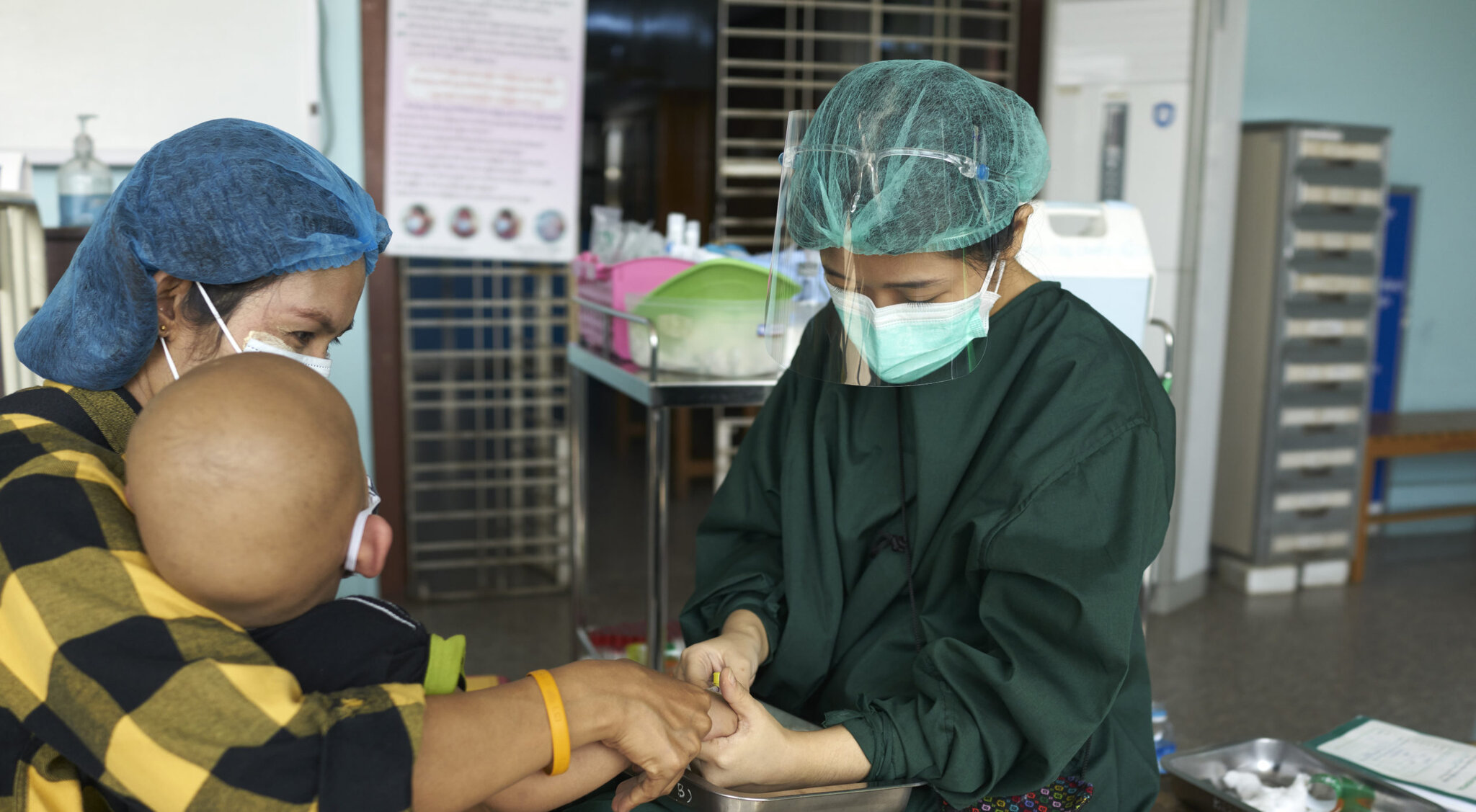 Agreement will extend use of pioneering online TeleEcho™ programme
As we celebrate the role of nurses on International Nurses Day, City Cancer Challenge Foundation (C/Can) join forces with the International Society of Nurses in Cancer Care (ISNCC) to work jointly on strengthening the leadership skills of nurses providing cancer care in cities in low- and middle-income countries (LMICs).
"This collaborative agreement has come about through C/Can's experience during the initial phase of the city engagement process," explains C/Can CEO Dr Susan Henshall, adding: "During the needs assessment, every city has identified and prioritised  the need to strengthen the capacity and role of oncology nurses as key members of the multidisciplinary teams, patient navigators and facilitators of quality data collection."
The agreement builds on the results of the C/Can Quality Improvement of Cancer Care Systems pilot programme TeleEcho™, carried out in 2020 to improve the quality of the city project plans by sharing knowledge, providing policy planning guidance and supporting the project teams in the implementation planning.
 A global taskforce of experienced nurses will lead a TeleEcho™ programme to connect nurses working in cancer care and share knowledge and best practices on patient navigation with both international experts and colleagues from other C/Can cities.
The proposed eight-session TeleEcHo™ programme will strengthen the leadership skills  of oncology nurses by building the required confidence and mindset about the essential role nurses play as key members of multidisciplinary cancer care teams and their role as patient navigators. This programme will bring together oncology nurses in C/Can's nine cities, while new members are engaged as they join the growing C/Can global network.  A how-to-guide to develop a city patient navigation plan will be developed and will be shared globally in partnership with the ISNCC.
INSCC president Patsy Yates says: "By leveraging technology, international expertise, and the expanding C/Can city network, communities of practice in oncology nursing will be developed to exchange knowledge, experiences and best practices with peers from other C/Can cities in LMICs, as well as colleagues from higher-income countries.
Current research emphasises the critical leadership role that oncology nurses play as part of multidisciplinary cancer care teams. Oncology nurses carry out a unique management role and are responsible for ensuring the coordination, communication and planning of the team's work, as well as providing guidance to other members of the care team. Most importantly, oncology nurses help guide patients through the stressful cancer journey by providing personalised coordination and responding to their families' needs through patient navigation programmes.
The theme of this year's International Nurses Day is A Voice to Lead – A vision for future healthcare. At C/Can we are privileged to count among our experts the leading voices of the taskforce driving this initiative: Stella Bialouse, Professor, University of California; Leisa Brown, International Lead of Nursing Education and Training Icon Group; Tarsilia Ferro Garcia, Director of Innovation and Quality, the Catalan Institute of Oncology; Margaret Hjorth, Group Director of Nursing, Icon Group; and Patsy Yates, President ISNCC.