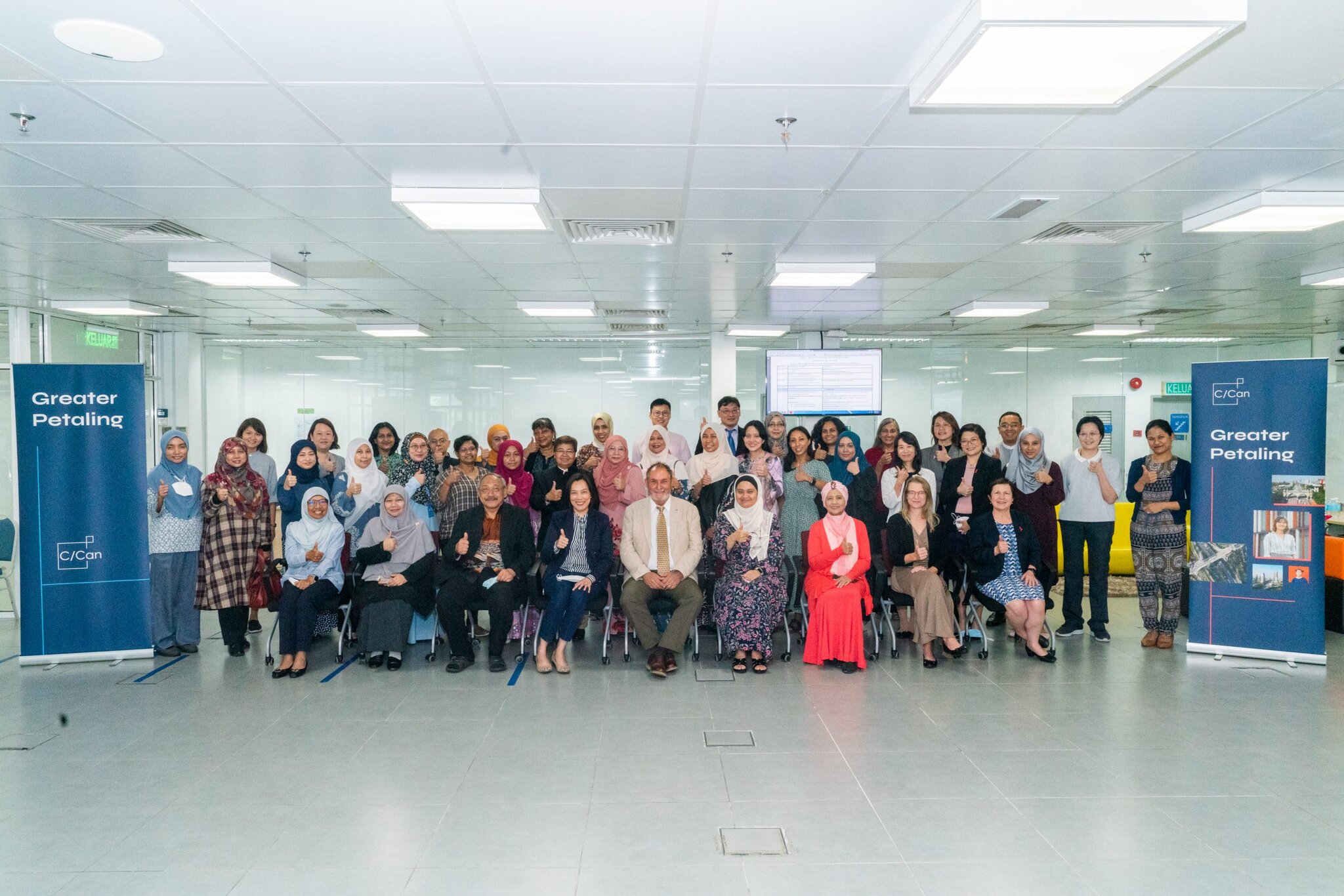 City Cancer Challenge's experience in LMIC cities suggests that bringing together specialists from different disciplines may represent a cost-effective way to improve diagnosis, treatment and follow up for cancer patients.
The threat from cancer continues to grow: in 2020, the disease claimed 10 million lives worldwide, that's more than a quarter of all deaths that year; what's more, estimates predict that more than 13 million people will die from cancer annually by 2030.
"These figures are alarming – they illustrate the burden that cancer poses – but they also hide the devastating and disproportionate weight that low- and middle-income countries (LMICs) share, because up to 70% of cancer-related deaths in 2020 were reported in LMICs," warns Isabel Mestres, C/Can's interim CEO.
Increasing and improving access to quality cancer care in LMICs requires better infrastructure, equipment and consumables like medicines, but it also depends on the cancer care workforce, explains Dr Thet Ko Aung, Senior Manager for Technical Cooperation at C/Can.
"Human resources represent the link between knowledge and the effective action required to diagnose, treat and care for cancer patients. So it comes as no surprise that the health workforce is one of the six core components of the WHO building blocks of health systems."
Yet a chronic lack of investment in the global healthcare workforce means that essential human health needs in LMICs are not being covered, the result of which is a projected shortfall of 18 million health workers by 2030. Dr Thet Ko Aung highlights the urgent need to focus on developing a new generation of adequately trained human resources equipped to shape and build innovative health systems.
"A skilled, knowledgeable and motivated workforce determines a country's ability to meet health needs and increase cancer patients outcomes, which is why health workforce development is one of City Cancer Challenge's (C/Can) strategic pillars."
Improving access to quality cancer care through a Multidisciplinary Team Approach
When a city joins C/Can, it undertakes a needs assessment to identify the key gaps and challenges that need to be addressed  to improve access to quality cancer care.
This data-driven assessment has consistently shown that cities lack multidisciplinary team approach for cancer care and operational multidisciplinary teams for treatment planning of cancer patients," says Dr Rolando Camacho, C/Can's Global Technical Lead.
A Multidisciplinary Team (MDT) approach to cancer care has become the gold standard across the world, with growing evidence suggesting that survival for many cancers can be improved by adopting it (Kesson et al 2012 BMJ; Munro et al 2015 BMC). The American Society of Clinical Oncology (ASCO) has long said that MDTs are essential to mapping the best path towards successful patient care. MDTs are made up of healthcare professionals of different specialties, who work together to assess, plan and manage care for cancer patients. C/Can also recognises that the existence of MDTs in cancer care facilitates the appropriate development and use of guidelines for cancer patients management, setting a standard of quality. In contrast, lack of MDTs can result in duplication of tests or misallocation of resources such that it often extends the initiation of treatment. This significantly impacts the quality of life of patients, patient satisfaction and ultimately, patient outcomes.
A second issue consistently identified by the needs assessment process in C/Can cities is the lack of resource-appropriate guidelines for management of common and curable cancers. The most recognised guidelines have been developed by associations like ASCO, the National Comprehensive Cancer Network (NCCN) and the European Society of Medical Oncology (ESMO), among others. These guidelines have been created by experts in order to provide evidence-based and consensus-based recommendations for multidisciplinary management of most cancer types. However, those cannot be fully implemented in limited resource settings due to lack of resources. As Dr Rolando Camacho, C/Can's Global Technical Lead explains:
These international evidence-based guidelines are known in most LMIC cities, but they cannot be implemented because of the lack of available resources: infrastructure, equipment, medicines or human resources." These are evidence- based guidelines, but they do not assume disparities of available resources. "This emphasises another pressing need to adapt guidelines to limited-resource environments or those that have to take into account existing resource constraints.
Addressing the need for MDT care in Kumasi, Ghana
Kumasi, Ghana's second largest city, has a population of 3.4 million  and provides healthcare to over five million people. There are  around 24,000 new cancer cases in Ghana each year, and over 15,000 deaths, with breast and cervical cancers accounting for over 30% of new cases each year.
After joining C/Can in 2018, Kumasi brought together 258 health professionals from 38 institutions and 53 patients, who took part in the city's needs assessment to identify key gaps and agree on solutions for improving access to quality cancer care.
Since then, with the strong support of the Ministry of Health,  the city has used C/Can's City Engagement Process Framework to plan and execute locally adapted cancer solutions," explains Sophie Bussman-Kemdjo, C/Can's Regional Director for Africa and Europe.
The needs assessment process confirmed that cancer patients experience delays in the period between first contact with the health system and the start of treatment. To address this need, the "Quality of Cancer Care in Kumasi" project was developed, with a focus on  strengthening a multidisciplinary approach by  introducing MDTs and standardising management of the most common and curable cancers, which in Kumasi's case, are breast and cervical cancers. With the support of external experts from ASCO, American Society of Clinical Pathology (ASCP) and other C/Can partners such as the International Atomic Energy Agency (IAEA), the African Palliative Care Association (APCA) and the International Society of Nurses in Cancer Care (ISNCC), the project brings together local cancer experts from public and private institutions, to work together on the preparation of a resolution to implement MDT care and adapt reference guidelines to the city context and resources.
"The project also includes on-going training for the local healthcare workforce, ensuring its sustainability beyond C/Can's direct involvement. Among the capacity-building activities is the Multidisciplinary Cancer Management Course (MCMC), a three-day international training programme adapted from the original MCMC, first developed by ASCO" says Dr Rolando Camacho.
The Kumasi MCMC was organised by ASCO and C/Can in July 2020, and brought together external experts and local cancer specialists to work on best-practices for improving breast and cervical cancer care through a multidisciplinary approach and guidelines adapted to local resources.
An MCMC involves more than just lessons by experts; it focuses on sharing know-how and experience through interactive discussions, presentations and sessions where participants can interact and practice real working conditions. The latter involves role playing activities like simulated MDT meetings or tumour boards. Tumour boards are meetings attended by key specialists involved in cancer management to discuss diagnosis and treatment for individual patient cases.
Dr Catherine Mwaba, Head of Radiation and Clinical Oncology Section, Cancer Diseases Hospital, Lusaka, Zambia, and faculty at the MCMC in Kumasi, highlights the interactive nature of the course, distinguishing it from traditional education efforts for knowledge transfer.
The session on the simulated MDT meeting especially impressed me as it recreated what actually happens in real life situations and empowered the participants to better appreciate the potential challenges they may encounter, how to interact with different specialists and to resolve differences. Theoretical courses do not always demonstrate the applicability in real life so they are often short-lived and do not lead to implementation of what is learned."
Dr Mwaba highlights the added value of involving a mix of faculty from the HIC and LMIC settings in the MCMC in Kumasi.
It was very important for local participants to see the differences and the common experiences across the spectrum of specialists."
While the MCMC focuses on adopting a multidisciplinary approach to cancer care, it provides many added benefits, among them capacity building and transfer of knowledge and skills, rational use of limited resources through optimisation of care via an MDT, as well as inter-specialisation and multisectoral communication through team building and cooperative work.
What's next
Three other C/Can cities, Greater Petaling, Porto Alegre and Tbilisi, have also identified key gaps in multidisciplinary care and the need to adapt guidelines to local resources. Within the "Quality of Cancer Care" project, with C/Can and ASCO support, these cities have planned capacity building through the MCMC activity.
The ASCO-C/Can MCMC was held on September 17-19 in Greater Petaling and will take place on October 26-28 in Porto Alegre and 2-4 November in Tbilisi. The MCMC focuses on MDT care and guidelines for breast cancer in all three cities. The Porto Alegre MCMC will also focus on prostate cancer and the MCMC in Tbilisi also on cervical cancer. ASCO and C/Can's Technical Cooperation team will bring in international cancer experts – in pathology, imaging, medical and radiation oncology, surgery, palliative care, and nursing – to deliver a range of in-person and virtual interactive sessions. In Porto Alegre, the MCMC, co-organised by ASCO, C/Can and IGCC will also feature Dr Julie Gralow, Chief Medical Officer (CMO) and Executive Vice President of ASCO, a recognised leader in breast cancer research.
As with previous C/Can cities, locally led efforts in Greater Petaling, Porto Alegre and Tbilisi, with the support of ASCO and C/Can partners' international experts, have helped plan and tailor courses so they can address local gaps in cancer care.
ASCO-C/Can MCMCs are a key tool for helping cities in LMICs improve cancer care, and C/Can's experiences indicate that these courses could be beneficial in improving cancer care through the promotion of a multidisciplinary approach.
With the common thread of capacity development and standardisation of care, each MCMC is locally-adapted, making it relevant and impactful." explains Vanessa Eaton, Director of International Education, Department of International Affairs, American Society of Clinical Oncology (ASCO). "Oncology specialists worldwide have the common objective of helping patients achieve the best chance of survival and the best possible quality of life. Collaboration and communication across disciplines can help us achieve this goal.