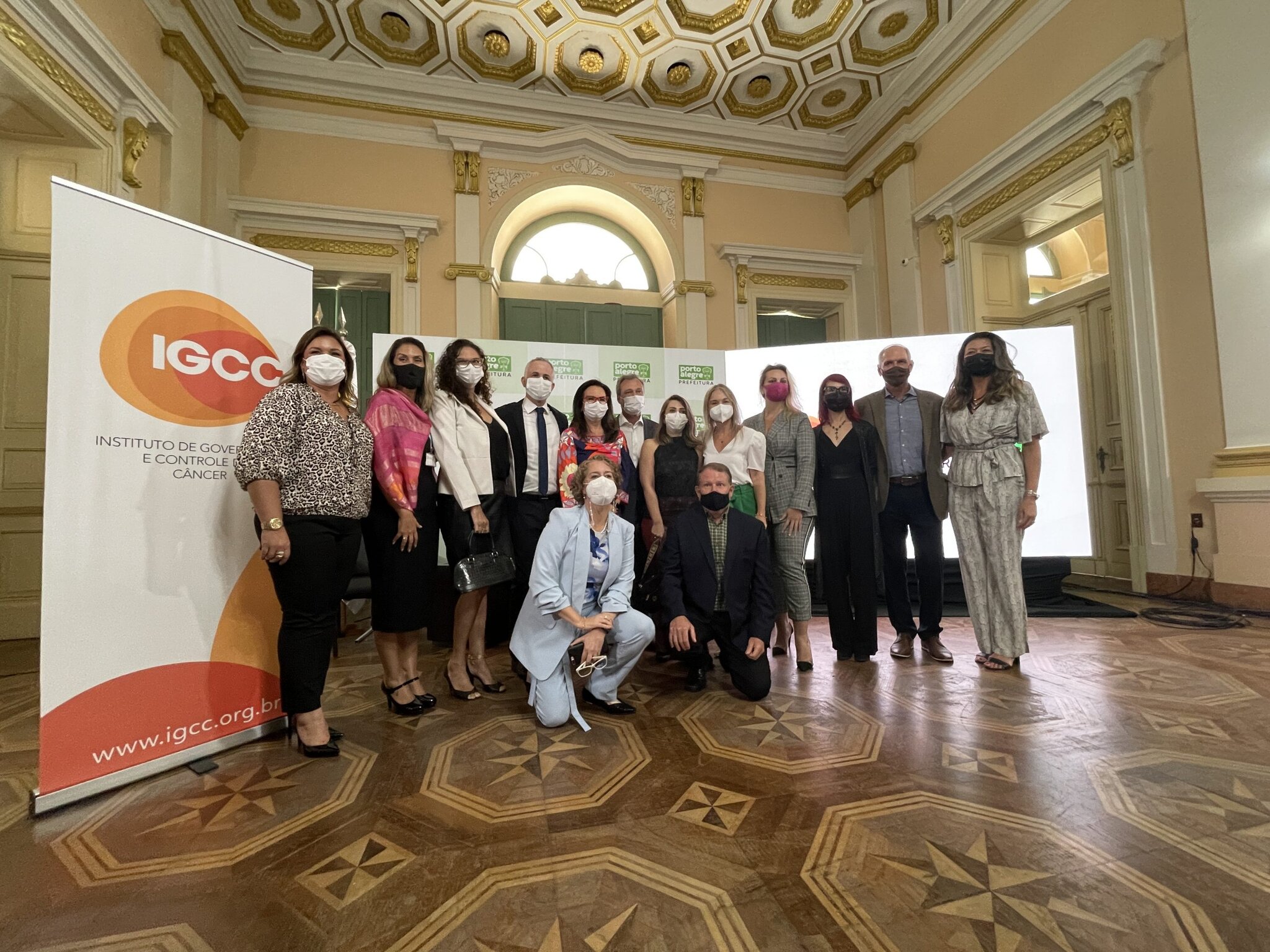 New MoU will focus on continuing to meet UN SDGs with a focus on reducing cancer deaths by improving access to quality cancer care in Porto Alegre.
Today,  City Cancer Challenge (C/Can), Porto Alegre City Hall, Brazil's Institute for the Governance and Control of Cancer (IGCC) and the State Government of Rio Grande do Sul signed a Memorandum of Understanding committing them to support Porto Alegre in developing and leading initiatives, projects, and programs to improve access to quality and equitable cancer care.
The agreement builds on the progress made in Porto Alegre since the city joined the C/Can global network in 2018 and is based on a shared commitment of the parties to work together to meet the Sustainable Development Goals (SDGs), in particular SDG 3 (Good Health and Well-being), SDG 11 (Sustainable Cities and Communities) and SDG 17 (Partnership for the Goals), and also the global target of reducing premature deaths from non-communicable diseases (NCDs) including cancer by 25% by 2025.
Welcoming the renewal of cooperation with C/Can, Eduardo Leite, the Governor of the state of Rio Grande do Sul, said:
"We are proud to be the birthplace of an important international partnership. The pandemic has shown that success means working together, and cancer is the next challenge ahead of us. We will face it with the same determination as we are addressing Covid-19 in our state."
Explaining Porto Alegre's policies to fight cancer, Mayor Sebastião Melo highlighted the city's history of international cooperation:
"We value the power of partnerships with organisations such as C/Can, and now its sustainability partner IGCC, as a unique opportunity to improve access to cancer care in our city, bringing all local and global stakeholders together.
Susan Henshall, CEO of C/Can, thanked city and state officials and the foundation's stakeholders for their commitment, and provided an update of C/Can's work in the city since 2018, saying:
"As we renew our agreement to work together for another five years, we can already see the value and impact of what has been achieved in Porto Alegre. I am confident that as we move forward we will further strengthen the foundations for a sustainable approach to improving access to quality cancer care."
In turn, Maira Caleffi, President of the Board of the IGCC, noted that the agreement between Porto Alegre and C/Can provided an innovative and sustainable model that could be scaled up and be applied both nationally and in other cities in Brazil.
"Working with C/Can is an incredible opportunity for any city that really wants to change its approach to cancer care by putting patients front and centre and bringing stakeholders together."
 Porto Alegre: progress over the last year
Despite the challenges posed by the pandemic, over the course of 2021 Porto Alegre's City Executive Committee (CEC) advanced its priority projects, and established new partnerships.
In the first quarter of 2021, Mayor Melo renewed Porto Alegre's support for C/Can, extending the MoU with C/Can, City Hall and the Government of the State of Rio Grande do Sul.
Speaking at the time, Rebecca Morton Doherty, C/Can's Director of Policy and Global Impact, explained how C/Can has developed a model to improve access to cancer care that for the first time leverages the city as a key enabler in a health system's response to cancer.
"Sustainability is a key component of the framework, ensuring the continuity and long-term impact of cancer care solutions developed through the C/Can process", she said, adding: "We envision sustainability as local ownership and incorporation of C/Can´s multisectoral approach into local structures and processes, for the continued improvement of access to equitable quality cancer care."
With this in mind, in April 2021, the CEC of Porto Alegre decided to set up the IGCC, a non-profit association.
"The IGCC was created to be C/Can's sustainability partner in Porto Alegre and to support cities nationwide that want to develop projects to improve public policies to fight cancer," said Dr. Rafael Vargas, member of the Porto Alegre CEC.
As C/Can's local sustainability partner, IGCC will be responsible for continuing implementation of the city projects, as well as leveraging this work to scale impact and support other cities in Brazil wishing to improve access to quality cancer care.
Among the seven projects developed with C/Can over the last year is the Quality Manual: Pathology in Focus, produced with the support of the Brazilian Society of Pathology, the American Society of Clinical Pathology and the Municipal Health Department. This manual was sent to all laboratories in Porto Alegre as part of the Collective Notification of Sanitary Surveillance, allowing 120 days for adjustments.  Furthermore, the Radiotherapy Access Project: a study to improve prostate cancer patient access to treatment. This project is advancing, and will deliver by April a management design recommendation report.
Patient Management Guides (Breast and Prostate) are also under review and the results are expected in the first half of this year. Finally, the Population-Based Cancer Data Registry promoted online training of the Health Surveillance local team by the National Institute of Cancer (INCA).
These initiatives are tangible evidence of how in a relatively short time, the partnerships established with C/Can in Porto Alegre are already yielding sustainable results in improving access to equitable cancer care while at the same time laying the foundations for similar initiatives throughout Brazil in the years to come.